JEAN MWONGELA: A WOMB FOR THE LIFE OF GOD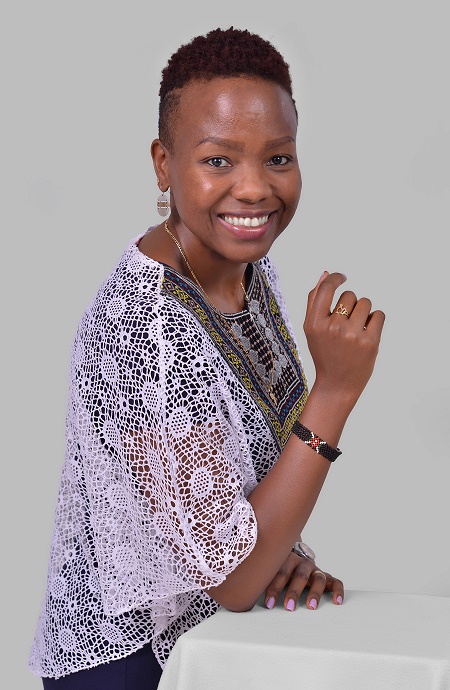 Tell us about yourself and what you do.
My name is Jean Wanja Mwongela. I am 35 going on 36. I go about every day doing what God needs me to do. My space is media and events; I'm a storyteller. I am a daughter, a mother, a mother who has undergone child loss, I am a wife. I'm a woman who has been totally broken and is piecing it together every single day.
What can you share with us about the journey?
My sister and I grew up in a family where our mother made sure she took us to church, so I guess that's the first point of contact with God. I got baptized and chose the name Jean at the age of 12. I was exposed to alcohol and violence at a young age. I remember watching my parents' first fight when I was in Class 6. I had always suspected that my mom had been hurt, but it just hit me that it was my dad who did that! It totally broke my idea of fatherhood and I didn't like him much after that. My grades went down immediately and my mom kept visiting me in boarding school to keep encouraging me. Somehow I managed to pass my Class 8 exams, among the top students in my school. Shortly after that, my mom left home, having had held on long enough to make sure that there was some form of stability.
During that period I started asking, "Is there a God? Why do we call You Father? I don't get it." I couldn't understand the father on earth nor connect him with this other Father in Heaven, because if He's good, these things didn't seem like they were good, because they didn't make sense. I went to high school broken. I was in a top high school but I didn't like it and did everything possible to leave it. At that time, I think I was looking for my dad's attention, I ran away from school, unintentionally.
We had gone for a school outing and I went for mazururo (walkabout) and the bus left without me. I panicked and went to my boyfriend's house to hide and he made me turn myself in the next day. My parents' reaction surprised me. I thought they would be angry but they were actually relieved to see me, they thought I had died. I went back to school and the Christian Union (CU), of which I was a member, and who were the very people that I thought would support me, said I was misrepresenting them, and kicked me out.
At some point I tried to commit suicide, it was an awful experience I would never wish on anyone but, worse than that it didn't even get me the reaction I was looking for from my father. But my parents took me seriously and moved me to a new school where my mom claims that the 'evil Jean' was removed and a holy one was put in.
My grades went up in a term, I think that's when I started healing and praying a bit more. I got out with a B- but my dad expected better and wasn't too pleased, so the wound came again that I didn't measure up to his standard. Also, the guy I had been dating left for the UK when I was in Form Four and I felt I had been left by another man that I had left my heart with.
I ended up at university studying communication. I thank God I went to that university, I had always thought I wanted to be a lawyer, but my dad pushed me towards communication; there must have been something he saw in me. Around that time my mom had found a new home and we were settling into that and she told me that she and my sister had found God. I don't know how that happened, but they would pray for me for God to just be with me.
Later on I joined a new mainstream media television station, which launched during the 2007-8 elections which were a very painful experience. We saw more death than was even highlighted in the media. I saw things live that I had only seen in footage for Rwanda. I saw God's protection even when covering areas where I was in jeopardy. If we survived that, God loves Kenya.
After that I started doing more humanitarian stories. That experience birthed a human interest show which was submitted for a CNN award by someone other than me and actually won and the station didn't do anything about it. I couldn't report the same way anymore because I was bitter and angry, but later I realized it had nothing to do with the lady who submitted our work as a solo entry, it was God who wanted to get my attention, to ask me, "Why do you think you're in media? Do you think it's just to pay the bills? To be seen on TV?"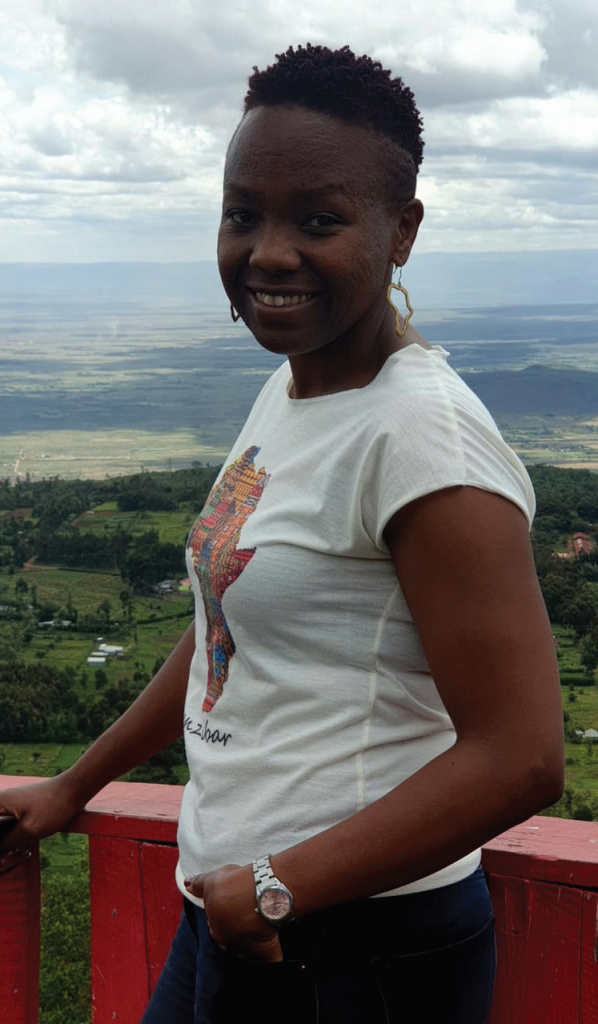 Marriage, Events, Zoey arrives
I didn't think I would get married. Having dated that other guy on and off, I decided I would put myself in media and become one of these independent women who don't need men in their lives. And then this man called Mark was sent, who found me online. He always jokes and says that IT pays his bills and got him a wife, because he literally searched online and I was amongst many – but I was the only one who wasn't responding until the third time he wrote and a conversation ensued. Mark is a gift. We got married in 2009 and in 2010, I left media and ran an events management company which by the time I left, I felt, I was not being faithful, like I was doing it for the money.
Mark and I had a plan: 2 years and then we get pregnant. God actually allowed that part. For some unknown reason, we used to lovingly and playfully call the baby in my womb 'Tulip' which, I found out later, means 'eternal or perfect love'. 26 weeks into the journey, God allowed that child to come into our lives 'premature'. No one actually tells you that you could give birth and go home without a baby. 6 1/2 months into our journey this child came and turned my life around. We had already chosen names for a boy and a girl, so we called her Zoey Nzilani Mwongela. Zoey stands for 'God's life', Nzilani – 'on the way' and Mwongela – 'abundance'…so 'God's life that came along the way to add'. And she did.
"I've done EXACTLY what you asked for."

GOD
We often don't realize that our bodies can speak to us and so we ignore them. When the preterm labor threatened, I kept feeling a weird pressure in my abdomen. The next day I was hot, the day after my stomach ran and then I started spotting. I went to see the doctor the following day and told the guy, "Something is not right." He told me, "No, it's your first pregnancy, you would not know." I insisted that something was not right and so he said, "Ok, ok, since you're insisting, let's just check." I'll never forget. You're there, vulnerable in all your nudity and the guy checks you and tells you, "This is not good" and walks out. I remember walking out behind him holding my dress and asking him, "What's not good?" He said, "You're actually three centimeters dilated, you're going towards active labor." I'd had no pain, I'd had nothing other than the discharge that I was getting and he told me I was going into labor. It turned out that I'm among a small percentage of women who do not get labor pain.
If you're in pre-term labor, you're supposed to be put in an inclined position and given progesterone to stop the labor, but no one did that for me. I remember I was walked out of his office and then rushed to hospital, where they asked us for KES 70,000/- ($700) to give us the medication and we had to make a choice to move to a cheaper hospital. Somehow, the ambulance had waited for the report before leaving, so they rushed us to another hospital where we met the doctor who I have been walking with since. This hospital didn't wait for money; they got me into bed, got me the medication and then sorted out all the admission details. I started my time in hospital of seven days, hoping my baby would stay inside.
On the seventh day, I remember I felt like I wanted to go to the loo, but this time when I was trying to go, I felt something like a bubble engorging from the front. I started screaming, "The baby is coming out!" A Sudanese woman whose daughter had given birth came and slapped me and said, "Keep quiet or the baby will come out. Calm down." That straightened me out, because I was in a panic. She took my phone and called Mark, by the time he arrived, there was a doctor who came in and performed the roughest check I have ever had. He then told me that I was six centimeters dilated and the baby was coming. The hospital I was in could not handle preterm babies, so I had to be moved.
When my doctor checked me, she told me I was now nine centimeters dilated and she told me, "Jean, I can't touch you anymore, if I do I could even trigger labor." She said, "Jean, if this baby comes out when you're in the ambulance, the hospital we're going to are asking for KES 600,000/- ($6,000) to take mommy and baby, but if you go with the baby inside, it will be normal delivery, KES 50,000/- ($500)." I was carried like an egg and held so that I would not shake. The one centimeter remaining, I told God, "Father, hold that one, I know you can!" And He did. When we got to the hospital, the lift wasn't working, so everybody got a hold of the bed and pushed me up the ramp. When I was placed on the bed I reached 10 centimeters, so we only had to part with 50,000/-, to start.
When the baby came out, they wrapped her in cling film in order to trap the heat next to her body and placed her in a warmer, followed by an incubator, so I didn't get to hold her. After birthing the placenta, I was taken to a room and I suddenly felt lost and empty, because I didn't have the tummy and I didn't have the baby and I couldn't see the baby. The room had piped music and the song playing was, "I will be still and know You Are God." I didn't think that song was for me, but it was and it started our 63 day journey in the NICU. That's when our faith really grew.
Be still and know
In those 63 days, we prayer walked, we fasted, we lay prostrate, we prayed, sang. We did everything we were told to do. It almost makes you doubt whether there really is God. Zoey went through so much in those two months. She endured wrong diagnosis and medication that caused her lungs to be saturated with fluid and one lung to collapse, but before they discovered the lung had collapsed they had tried so many things and procedures that failed. But we saw God's hand at work. Once we were called and were told, "If we perform this procedure, she can die. If we don't perform this procedure, she can die. Go, sleep on it, you have to sign to authorize it." We were up by six and in the hospital before seven. I couldn't think, so I asked Mark, what do we do? I remember him saying, "This is what we're going to do, we're going to sign these papers and Father God, we don't know what to do but we're going to give them permission because we don't know what other avenue to use. If it is Your will for the procedure to be done, You will let it go ahead. If it is not Your will for the procedure to go ahead, You will block it in Your own way." And we said Amen and we gave the go ahead. They started prepping her. When I was sitting in the visitors' lounge I heard the monitors which were attached to her sounding alarms, so I ran in. Zoey was panting hard, I didn't notice anything at first but there was a certain doctor who, when she walked out, Zoey's stats calmed down. As soon as she walked in, Zoey's numbers started misbehaving, but when she walked out again, the numbers went down again. I asked her to come back in and as soon as she walked in, I saw the thing again. Then I told her, "please could we go discuss this outside", and I noted Zoey calmed down again. I remember Mark and I just looked at each other and we knew this thing is not happening. I told them, "you know the procedure cannot happen". "Of course it cannot happen, the baby is not calm!" She exclaimed, and in my head I was thinking, 'Yeah, it's you.'
A second procedure was suggested and involving just the lung doctor and we liked him. He said they would try an endoscopy to try see the cause of the blockage in the collapsed lung. We gave him permission, but even that one was risky, because in Kenya we didn't have the smallest apparatus to do it and they were saying that we would have to get it from South Africa. It was frustrating for me dealing with them sometimes because we were paying them a lot of money per day but I didn't feel they handled everything the way they ought to. They did the procedure. I had such hope and when the doctor came out from the procedure, he just shook his head. I crashed. That was the last point of hope, or so I thought.
Three Tuesdays stood out for me. The first one we were told to come and wait for our baby to die and they literally put chairs out beside the incubator. That's the first time I saw Mark break, our mothers were on the floor, but I didn't break for some reason, I think I was in shock. When we went to sit with her and were asking her if it was ok if we gave another child her name, it was like she was protesting and she woke up. She was ok.
The second Tuesday I was alone and they had tried something on her and she was very frantic and I thought she was going to go and I remember going to lock myself in the NICU toilet to have a conversation with God, "What's going on? Where are You God? What do You want?"
The third was after this failed procedure. I had gone to express milk, when Mark called me to find out where I was, he didn't say anything, but I knew something had happened. Then he called me again and told me to please come down, that everything was not ok. I found the curtains of Zoey's cubicle closed and many feet around her. I was watching the monitors, I watched the numbers come down and then suddenly they flat lined. I remember feeling cold and asking Mark, "Is that it? After 59 days? That's it?" Mark didn't say anything. What could he say?
"Life and Death is in My hands, let go," God.
I went to another room in the NICU and closed the door and stood at the window, as was my norm. That day I shouted at God, "Are you there? What do you want? Is this how you thank me? You asked me to come back to you and I did. What do you want? I'm done with you; let me go back to all my other ways. I am done!" And I walked away from the window, but as soon as I got to the door I felt such an emptiness that I ran back to the window and said, "Ok God I can't live without you, but I don't know what You want. This child has gone through so much, we're going through so much, what do You want? God, I'm giving You two choices. I've seen You do so much already, so I know You can do this. You either take her and save her from all she's gone through, and even us, or you perform a miracle and give her life, 'cause You're God, You can do this! Those are the two things I'm giving You." And I stood there waiting for; I don't know what I was waiting for. Mark walked in and just stood next to me. The next thing we heard was Zoey's room being opened. We turned and saw the nurses and everyone passing and just looking at us and walking away. Then our doctor came in, she just looked at us and said, "Do you want to go see her?" In my head I'm thinking, 'see her dead or alive?' I told her, "No." Come, we need to talk," she said.
We went to the visitors' lounge and she was sitting at the edge of her chair, she was very nervous and she asked us, "Do you know what just happened? I don't think this is medicine that we're dealing with. Your daughter was dead. Clinically dead; ready to be taken to the morgue. She was dead for 15 minutes, we tried resuscitation, we gave her three shots of adrenaline and her heart would just not respond. I confirmed no heartbeat and there was a second call and just as I was putting my stethoscope down to record the call, Zoey did the one thing we have been waiting for her to do for 59 days. She breathed and opened her eyes." As she was talking I was just feeling cold. She said, "Do you understand what I'm telling you? This is not medicine!" I felt fear. She told us, "Maybe we should step aside and let you people pray." She asked again, "Do you want to go see her?" I said no, Mark said yes and went. I was left there, that's the first time I know I heard God clearly. I don't know if it was a whisper, I just heard, "I've done EXACTLY what you asked for." Then I heard, "So that you know that life and death is in My hands, let go."
Then my mother walked in and every emotion I had came pouring out. My mom told me, "Go see your daughter." So I went and I remember the nurse just told me, "This faith of yours, I have never seen. You're going to hold this baby, even if they say you should not hold her. You're going to hold her." And I did what they called 'kangaroo' and that's something that should be encouraged with pre-term babies and I don't know why we don't do it. Human contact does something for the child. When she was put on me, and I covered her with the gown, it was one of the most beautiful precious moments and also scary because of all the tubes and wires. There's a photo of Mark, Zoey and I in that moment, it's the only photo we have of the three of us and it's a precious memory.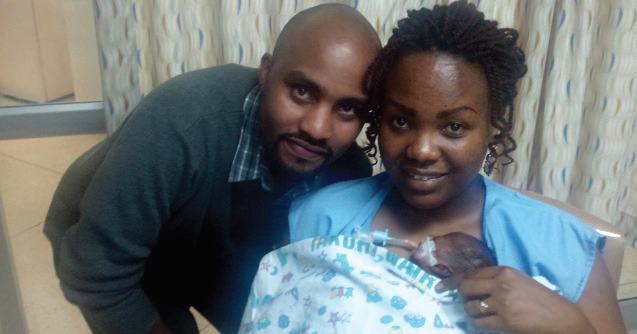 Then she was placed back into the incubator. I couldn't leave. I thought that if I left, she would die. I prayed and said, "Father, please, if You ever have to take this child, please don't let me get a call – I don't think I can handle a call. Let me be here." And He honored that.
True Liberty
Three days later on the 1st of June, 2012, that's the day people are celebrating Madaraka Day, liberty. Liberty was coming for me, but not in the form that I thought. I remember waking up that morning and I was feeling a certain way, it was like a knowing that something was going to happen. There was a wedding on Mark's side of the family and we felt to make an appearance, but while we were there I felt to go to the hospital. I told Mark, we need to go to the hospital. He said, "They have not called", I said, "We need to go." Now I know it was the Holy Spirit. As soon as we entered the NICU the doctors told us, "Zoey was unstable earlier, she was up and down, but now she's settled. Just go see her." As I walked into the NICU, I knew she was going that day. I couldn't tell Mark.
Mark was on the other side of the incubator, something we had done for 63 days. We used to place our hands on the incubator and just pray over her and maybe sing and I just told him I needed to take a walk to pray and that I'd be coming back. He said, "Ok." I wasn't going to pray, I was defeated that day, but there was a strength that I got. I was seated at a place I used to like sitting, it had big windows and light. I said to God, "I don't know what's going on." I remember looking up as a bird flew by and all I could hear was, "Stay under the shadow of my wings." I was just like, "God, I can't pray." It's like something was drained out of me, I remember I just sat and I just told God, "Have Your way, I'm tired. Father, Your will be done, I'm so tired." Then in the reflection in the window, I saw Mark coming, and I knew. He came and told me, "We need to stand with her, she's not doing well." He tells me I started crying. I remember going in and looking at her and she flat lined. Mark tells me there's a way I cried and I shouted, "Bag her!" So the nurse came and bagged her, but I noted it was just the bag giving her fake life. The numbers came back, but I felt, 'why am I forcing her? This small human being…' I felt bad, I felt selfish. Mark and I looked at each other, we didn't even talk, and we just said, "Stop." The nurse asked us, "Are you sure?" I told her, "Stop and just give her to me the way she is." They stopped while she was still alive, and I quickly stripped and they put her on my chest and I just held her and rocked her.
Somehow my mom had gotten the same inkling from where she was and she and my aunty and stepdad came and I think Mark sang. All I remember is I was rocking throughout and looking at the numbers. I couldn't pray but I was praying for a miracle. Something could still happen. But the doctors had told us that they had pushed her lung capacity to the point where her right lung had pushed into the space of the left. Zoey's doctor was so affected, she told me, "I can't be here. Jean, I'm so sorry, we tried everything. We love Zoey." And she left. I kept feeling Zoey jerking and the numbers were going up and down. Then a nurse came and prayed, my mom says she put tissue under my chin, apparently I was crying, but I don't remember. And Mark came and told me, "Jean, you need to release her." I remember looking at him and I didn't know what 'release' meant. He said, "You need to let go, she's fighting because of you. Release her." Mark looked at me and I just told him, "I can't pray, you pray."
I remember he thanked Zoey for coming and he told God, "We don't understand why You brought her into our lives but maybe one day You will let us see it." And he told Zoey, "Stop fighting, we release you back to your Father, we'll see you one day in heaven. Just let go, stop fighting. We love you. Amen." As soon as Mark said Amen, she stopped and she was very calm. We watched the numbers coming down and I felt the life leave her, her body became limp and she went. Even after I felt her leave I was still thinking, "No, this child can still come back." And the nurses came and told us, "Jean and Mark, we need to take the baby and call it." They couldn't do it while she was on me or they would have registered my heartbeat.
When they pulled her off my skin, that's when I felt death. I told them, "Just wipe her, and remove all those things you put on her, wrap her up and give her to me the way she was born." In my head there was a picture of the bundle of joy they bring to you… they did that, the only difference is I got the bundle, but with no life. I unwrapped her and looked at her for the first time; she was tiny. Zoey was born at 880gms and she died at 1.4kgs. In that moment, Mark broke and when he did, my judgment on myself started, "I have failed my husband. I have failed as a woman; I didn't bring him his first child. I have failed my mother; I didn't give her her first grandchild. My body failed me; it cannot carry a baby to term. I'm a failure." All the mistakes I made as a girl growing up came to my mind: I had sex before marriage, maybe the men I hurt or the disobedience of my parents or trying to take my life before time… God was punishing me.
So many things came with that death that have since had to be undone over time.
Why, God?
A week later we buried her and God continued to be with us in special ways. On the day of her burial, there was a document that was needed by the coroner but Mark and I had forgotten it at home on our table. It was just one more thing that seemed too much to deal with that day. We went to the morgue, dressed her and put her in the casket together, we closed it ourselves. When we got to the gate, the coroner ran up to us to tell us that he had found the envelope! That envelope was moved from our house. Truly God can never give you more than you can handle. We know God did it for us that day.
We had a service, we sang and we sank. When she was put in the ground, I realized she's not coming back and now I lost it. My friends tell me they will never forget the wail that came out of me. I don't remember anything; I was beyond myself. I had just buried my dad 8 months before that, I was barely healing, then now this had happened, the fear of death came over me. Who would go next? Mark and I ran away the next day and went to Mombasa to get away from everything and everyone. Mark had to walk his journey, I had to walk mine. The curiosity of "Do You love me God? Why did You let this happen?" But it's the journey that totally introduced me to God. Zoey brought God's Life and Liberty to me big time.
I have a father who I met along this journey. The first time I met him, two weeks after her burial, he was the only one bold enough to tell me what could only have come from the very heart of God. He said to me, "You're a very selfish person. So she was brought to deal with this I, I, I. With all this I, where does the Holy Spirit have room to work in you?" Zoey had a process for every person who met her, for me, it was that selfish nature being revealed and being broken down. The same father told me, "One day, you'll give thanks for her death." I thought 'you cannot be serious'… but I now genuinely thank God for her death, because Zoey actually brought life.
"Stop fighting, we release you back to your Father, we'll see you one day in heaven. Just let go, stop fighting. We love you. Amen."

Mark Mwongela
You've since had two precious babies.
Yes, we've had two more babies. We have Elianna Wendo Mwongela and Aaron Taraja Mwongela. For those who are in our family, they'll note that none of our children have any names from either side of our families. There were cultures that needed to be broken. For us, God broke that starting from Zoey. Elianna means 'my God will answer'; Wendo means 'love', so 'my God will answer in love.' And she truly is an answer and for anyone who has interacted with her, even me, she is just love. When Wendo came, I almost felt like I had to prove a point, that I can carry a baby to term. I was scared with Wendo's pregnancy; I was literally holding my breath until I got to 26 weeks to see if I could actually make it. I think I only started enjoying the pregnancy once we crossed over. God kept telling me, "I'm with you." I thought that when Wendo was born was when God was faithful, but I realized that perception of faithfulness was warped. God was faithful even with Zoey, His faithfulness is steadfast, it doesn't change and that's important for us to remember. And then Aaron Taraja, Aaron is a leader, there's something about his life that straightens things out and Taraja comes from kutarajia – 'hope', because there was a threat of him coming out at the same gestation as Zoey. I told God, "I'm holding on to you. You know what I can handle. As I lie here Papa I don't think I can handle another Zoey journey, please. I'm holding onto hope for this one." He came at full term. When he came; his sugars were at one, so he was taken into the High Dependency Unit. There was just drama the first three days. So Taraja comes from that.
So having come through all these experiences, what now?
Zoey came, left and we were left with a bill of 4.5million ($45,000) and everything was wiped out and a debt still to be paid. It was savings from the media, the events company, wiped out in two months. It was like every-thing was wiped clean, so I had nothing to lean back on, except God. And we never went hungry. You know, sometimes I sit with Mark and we're like, "How did we do it?"
Now, stepping into anything, there is a pause before doing any of it. I became more cognizant of God. I became more aware that He is there and that He really wants my attention. After the Zoey journey, Mark and I got seriously tested; our marriage has never been the same.
The whole experience opened my eyes to a lot of things, because even before Zoey died, we watched four babies die, Zoey was the fifth. It exposed me to a lot, the pain of the woman, the man, the whole birthing experience, pregnancy. It created in me a heart for women and men, having walked with Mark through it. There was financial and emotional tension, men and women grieve differently, so respecting one another's processes. Not a lot of people understood what we were going through so there was also pretense, trying to keep it 'pretty' for the in-laws and friends and all.
Zoey doesn't like green butterflies
When Wendo was three, going on four, she woke up from her afternoon nap and told me, "Mommy, do you know my sister, Zoey, loves butterflies?" I felt the Holy Spirit tell me, "Calm down." Mark and I had already told her about Zoey, because we didn't want her to hear it from anyone else. I asked her, "Zoey?" She said, "Yeah, my big sister in heaven." I asked her, "Butterflies?" She said, "Mommy, yes, she loves butterflies so much and she loves red, yellow and orange, but she doesn't like green, she doesn't like green at all." I was just like "She doesn't like green? Wendo, how do you know all these things?" And she looked at me with such a matterof-fact face and she said, "Jesus showed me, I was with Him in Heaven, He showed me." And she continued coloring the butterflies that she had seen and the next thing she asked me, "Mommy can I watch cartoons?" And that thing ended.
There's a way these children are used, they are pure in heart and we're told the pure in heart see God. So for me I'm just like, "Thank You for that journey".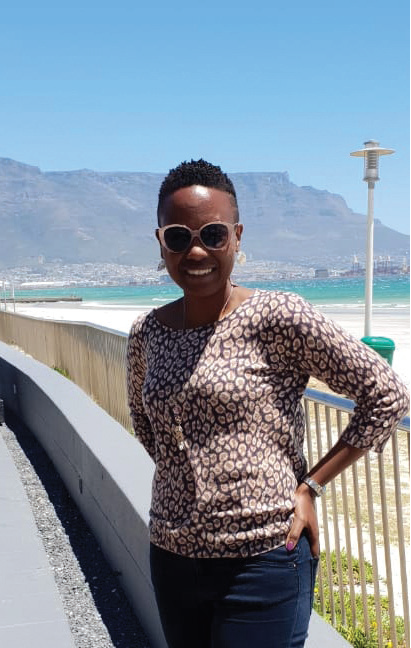 A New Crew
On Zoey's birth date, two years ago, I realized that God was nudging me to let me know that it was time to tell her story. I started telling her story online as part of a 'Health and Wellness in Him' series on YouTube and I connected with so many women. People would write back and share what they were going through. It opened up a journey of healing for me and for other women and also offered warnings to doctors who think they know and they do not know and they should calm down and be humble and let people ask questions, there's nothing wrong with asking questions.
After the 8th episode, there was a pause and a transition and God said to me that He wanted to get me back into media and I kept hearing "I AM Africa." I AM – who is God, who wants to rest on Africa and use the continent to tell stories. I got to travel to Rwanda and then Nigeria and later on South Africa and I realized our stories are just the same, but we don't have the avenues to share them. The problems are similar but we keep looking for solutions outside. God wants to use this very place that man has called 'dark' to bring light. The most powerful way to tell stories is media but media has its people and He is looking for a new crew to take over. I am one of them. "I AM Africa" is like a mother under which He wants to allow people to come and tell their stories of Africa rising, to show that we can be a self-sustaining continent.
Any words for women going through what you have gone through?
My word to women is you're not defined by becoming a Mrs. or becoming a mother, but by God. Can you actually pause, just take a moment and try figure out: "Who am I? Why am I here? Is there more to me than what I'm doing? If you lost your position or marriage, would you lose your identity? If you lost your children, would you lose your identity?"
If the things around you are defining you then there's actually a problem, but once you understand who you are in God, then you can truly walk in liberty.