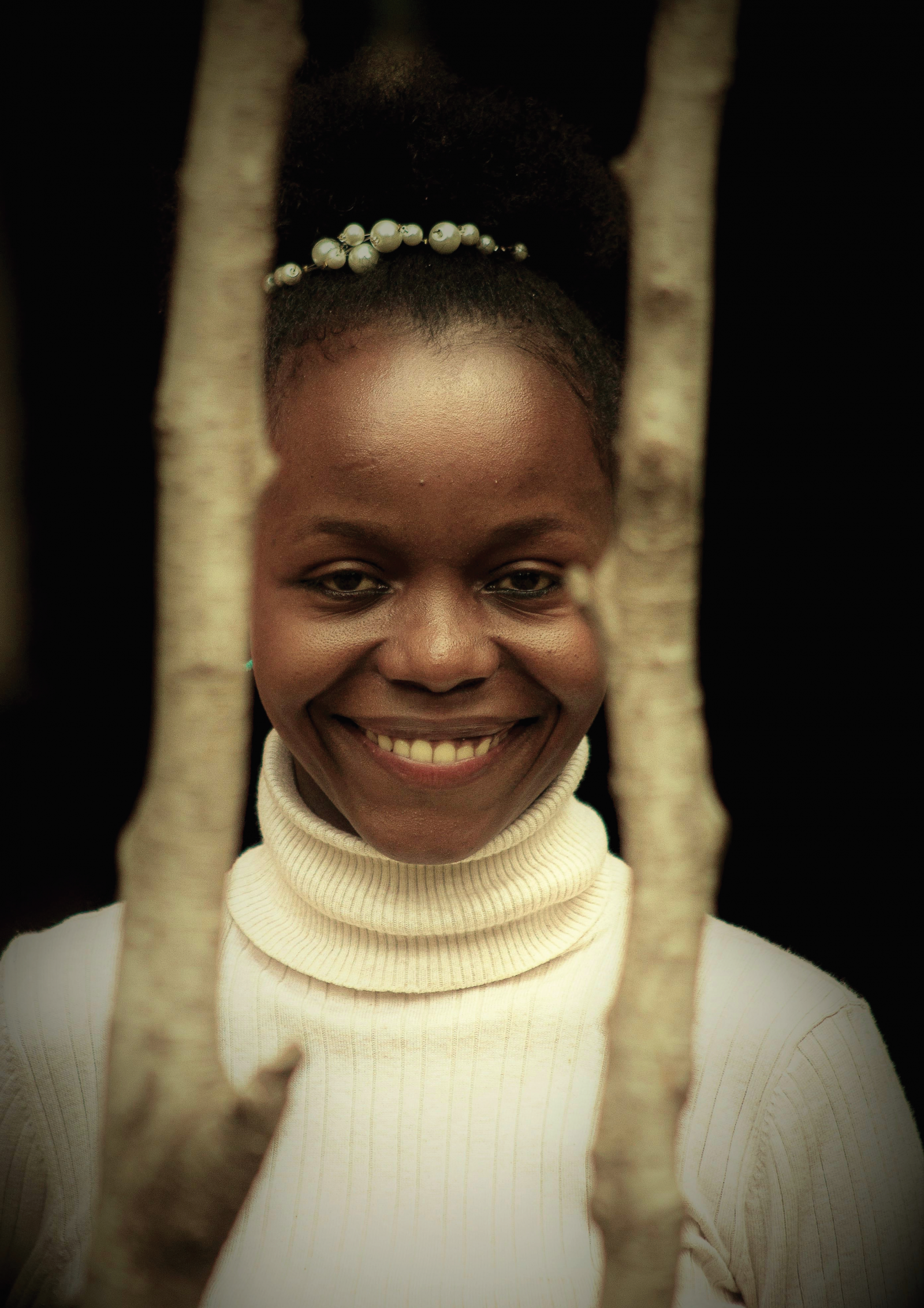 FANNIS MWENDE – DADDY'S LOVE MADE ALL THE DIFFERENCE
Please tell us about yourself
My name is Fannis Mwende. I am proudly thirty years old. Age, for me, has always been something that excites me. To know that it's not just been thirty years, it's been thirty amazing years that I would have otherwise not seen if God had not saved me each time I brushed shoulders with death starting from before I was born. I am a devoted mother to two fantastic humans. I am a wholesome wife to one amazing, good man. I am a passionate lover of God and people and I have a wonderful little dog.
When did your journey with God first start?
For the longest time I used to say that it was in 1998, until August 2007 when my mother took me for what would be our first and only vacation. She told me, "Did you know I gave my life to Christ because of you?" And I went, "What do you mean? I know you gave your life to Christ in '97." She said, "Well, you gave your life to Christ in '96, if not earlier than that." She said that because of the transformation she saw in my life, she told God, "Whatever that child has, I want too."
As far back as I can remember, I have known Him and loved Him. However, the reason I used to insist I got saved in '98 was because that's when I have my earliest memory of Him speaking to me audibly. This revolutionized my life. That same year I had another turning point, when I asked my mother who my father was and she told me, "Your Father is in Heaven." I said, "I mean a father like Papa's." (Papa was my neighbor and his father was that guy you look at and you're like, "Even me I want a father like that one.") She said, "Yes, your Father is in Heaven, your Father is God." I took that seriously and that's when I went and told Him, "Really, if You're my Father, like the one Papa has, then I want a Cinderella dress." At the end of that week, on a Friday night, my mother told me, "I want us to go to Garissa Lodge tomorrow. I want to go get you a Cinderella dress!" I had not had that conversation with her! That's when, more than Him just being God in heaven, He became my Daddy. I grew up knowing that my Father hears me and really looks after me.
So you never felt the lack of a biological father?
Not at all, for two reasons: After the conversation I had with my mother, literally pointing me back to the Father, I realized I had a Father who could do and be everything Papa's father was to them – and then some. As soon as I told Him, "You are my everything," He made sure I never had a void in my life. Even after He asked me if He could receive my mum into His glory, and He did, He brought mothers, fathers, sisters and brothers into my life. He just keeps giving. Secondly, my relationship with my mum was so wholesome. Not once did she make me feel like we needed more to be complete.
He asked you if He could receive your mum?
Yes, He asked me, "If I receive mum into my Glory, will you still love me?" And I asked Him, "Now, Daddy, You are God, why on earth do You need my permission?" [Laughs]I reminded Him of 2001 when I had nearly died and I had made Him a promise. I was having an asthma attack and was on the brink of death. The only person who could have helped me, said to me, "You go sort yourself out. I don't care!" I told God, "Daddy, I'm not ready to meet you today." I was feeling cold coming up from my feet and all I could think about was, 'I haven't even said goodbye to my mum.' He gave me a scripture to read and I read it and I just told Him, "If You free me from this thing and I never have asthma again, I will serve You for the rest of my life with all I am and with all I have." So when He asked me if He could receive mum, I told Him, "You have taught me that You are a Father Who keeps Your Word and You expect Your children to emulate You. You have always been God to me. And I promised you in 2001 that I would love you with all that I am and with all that I have. If you don't heal her completely but instead choose to receive her, all I ask is that You give me the grace every day to live without her and that You don't allow me to feel like I'm an orphan." The next day, after my mum had breathed her last, as I lay on her lifeless body, all I could tell Him over and over was, "Yes, I will still love You, I will still love You."
One word, surrender!
That is one thing that my life is consistently about;
a life of surrender, which is consistent with the love and freedom expression I have shared about.

Fannis Mwende
How did you manage after that? She passed on when you were still in university?
Yes, while in my first year, second semester. One of the things that made that transition much easier, was my mum was my best friend. All through my life she involved me in nearly every single decision she made, so it came quite naturally to me what needed to be done when she passed. She had empowered me so much and I was quite independent for my age, I was also privy to all her documents and all her PINs. She had also been preparing me because we knew she was terminally ill. After she passed, I leaned on my Father a lot and He guided me carefully using one of the mums He had given me to walk me through that season.
As far as school was concerned, in terms of fees and all that, God gave me so much favor with Daystar University. When I was applying to join, my mum had KES 2,000/- (USD 20) and she said, "This is the only money I have, after this I don't know where your fees will come from." I told her, "And for good reason. Daddy and I agreed that when we send in this application and we receive an acceptance letter, it will mean one thing and one thing alone: He is going to take care of the school fees from the beginning to the end and we will not need to worry about it." And that is exactly what He did.
While she got a SACCO loan for my first semester, which wasn't even the complete fee, insurance later settled this and all other loans, meaning she ended up not actually having paid my fees. I ended up getting two scholarships – which was unheard of. Through a God-orchestrated series of events, I was one of the two students who received "the first price" scholarship. This took care of a good chunk of my fees. Then I also got a work study scholarship which, not only allowed me to get work experience while in school, but also took care of part of my tuition. If there was anything left to pay per semester, it would be KES 10,000/- (USD 100) out of KES 150,000/- (USD 1,500) or even nothing sometimes. That's how I finished Daystar, no stress whatsoever. My Daddy took care of it.
Were you ever discouraged?
Honestly, no. He has not allowed it to date. You see one thing I normally tell people about God is that when you keep asking Him questions, trying to understand the things that He does and why He does them, you'll get stuck there. Then you will leave room for discouragement to check in. All I did was ask Him to keep His Word to take care of me.
On the night before she joined Him in His glory, 5th October at around 8pm, I had returned to the house from the hospital and was waiting to hear from her neurosurgeon as to whether they were going to take her off life support or not. I was alone and God spoke to me, audibly, and said, "Mwende, I love you and I will take care of you." Then at that very moment, the radio went on by itself and started playing the song, It is well with my soul. I knew the story behind the song and I just started crying. I knew it was well. The next day when things were happening, that was the only time I wrestled with Him, saying, "You can still change this outcome," and He said, "No, this is the way it has to be." Later, when I was ready to hear it, He told me why that was so.
I have stood on what He said; that He loves me and He'll take care of me. And every single day of the past ten years, that is precisely what He has done. He has indeed made sure I have not had time to sit down and tell Him, "I feel like an orphan." The only time that happened was when I was getting frustrated by some cousins I was living with while in university. More often than not, that environment was quite toxic, but even within it, I can still tell you He had one of my mums taking care of me. Never once have I stopped experiencing His love, care and support.
Eventually God led you to your husband. What was that journey like?
My husband and I have known each other almost since we were in our mothers' wombs [laughs]. End of August 2010, God said to me, "You want a husband? Then sit down and let me teach you how to be a wife." One of my mums, let's call her Ma, was instructed by Daddy to get me sandals with two rings on them -one on each shoe- and also put me in a cab with strict instructions to the cab driver to take me straight home and not stop anywhere. I was in mind to go meet the one man that my Father and I had wrestled over for years. I believed this guy was perfect for me; he made me feel beautiful and valued. On that day as that physical separation was happening, the farther away we moved from town, where I was to meet him, I said, "Okay Daddy, whatever it is that You're doing, if this is how You've decided this is going to end, then fine." That's when He told me He would teach me how to be a wife. We exchanged vows on that day and He became my Lover and for two years, He took me through probation, where He started teaching me certain principles. I now understand the reasons why I learnt them.
Mwema and Fannis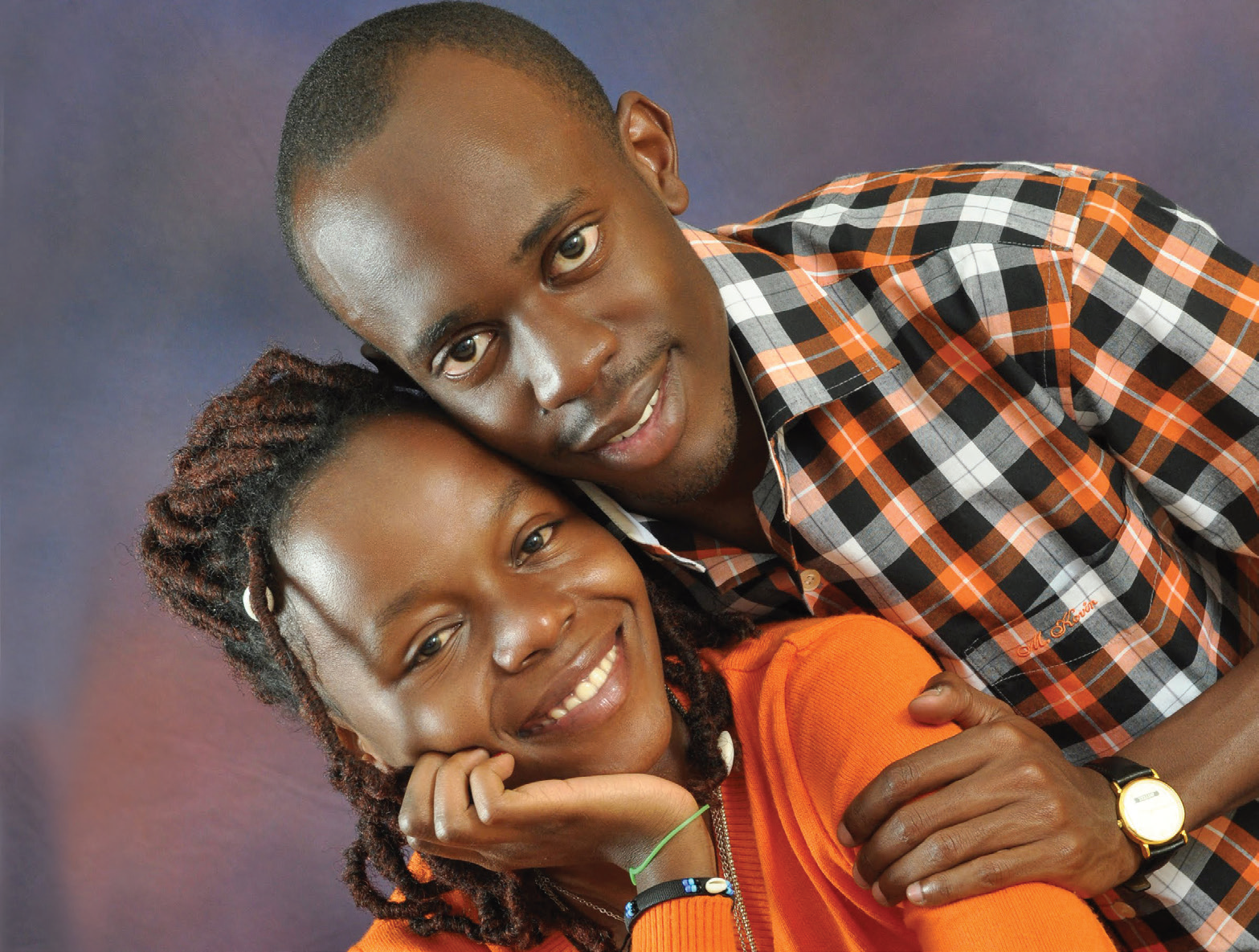 For instance, principle number one was love is a choice. Just like we have to choose to die to self daily in order for the will and purpose of God to prevail in our lives; so does it need to be in marriage. And boy is there a lot of dying to self(ishness) involved in marriage! Can I get an Amen?!
The other thing He taught me that I found interesting was from the book of Ruth, the opening verse says, "In the days when the judges ruled, there was a famine in the land." He said that this was why He needed to raise Kings. What this meant for me was that I started praying for my king. Mwema came into my life before the first probationary year was complete, but God was not giving me an audible response as to whether he was the man He had brought into my life. I prayed a prayer He had taught me to pray: "God reveal to me his heart and his motives." Whenever I had prayed that prayer before, things would happen that would not be for my good. For instance, a guy who had been treating me well up until that point would start treating me with disrespect or say things that would show that we couldn't walk together. However, every single time I prayed that prayer over Mwema – I would be shown a beautiful side to him. I had agreed with God that my husband needed to come knowing that I'm his wife. Not a 'let's just date and see how things would go' kind of guy. That's one of the first things Mwema told me in our early conversations, "You're my wife." He says he doesn't remember saying anything of the sort [laughs]. I tell him, "You were under the influence of the Holy Spirit." Everything else that I prayed and asked God for in my husband, I got.
I think, for me, our relationship places a constant demand for growth from me, which in turn draws me closer to Daddy. God is constantly reminding me that I cannot do this life without Him and that drawing from Him is the only way I can be filled and then have some to give and share with my husband and children. That looking to my husband to fulfill all my needs is a futile endeavor, not to mention quite an unfair expectation of him too.
The journey to parenthood was not a straight line.
No. [Laughs] We got married on our fifth anniversary (of being together) and decided that we would have children after two years because we wanted to get to know each other first. Don't ask me what kind of knowing we were doing for the five years! The first six months of my marriage were plagued with episodes of depression. I entered marriage having ideas and expectations that I felt were not being met, so I was not seeing how children were going to come into that space.
The other thing is, when I was in high school, God had told me not to put anything into my body as far as family planning was concerned. I was a virgin so I was wondering why we were having that conversation. Once Mwema and I were married and I was adopted into his workplace insurance, I went to see a gynecologist that I had started a relationship with in 2010. She looked at the calendar I presented, which I had tracked for two years, and recommended that I go for further tests. She said, "I suspect that you only ovulated three, maybe four times in this one year. You might have what is called Polycystic Ovary Syndrome (PCOS) and I need an ultrasound to confirm that." This was confirmed by the ultrasound and she told me that I might need fertility drugs when we were ready to conceive. I told her we weren't ready to conceive. She said, "This thing is unpredictable, as early as you can, start. Come back when you're pregnant or ready to get pregnant."
Before I left her office, I asked her what would have happened if I was on any family planning and she told me, "Oh that would have complicated things more…your chances would have been way slimmer." Then I understood why God had given me that instruction about family planning. This right here is why I insist, there is nothing as important as training up your child to hear God for themselves from the day they are conceived; because you cannot teach them everything, but the Holy Spirit does, can and will. That for me has been my saving grace every day of my life.
My husband's reason for wanting to wait was that, financially we were in a deep valley. When I got home and told him the doctor's report, the conversation went from, 'we want children in two years' to 'we may never have children? Let's start now!' [Laughs] This thing is not in your hands, my friend. It was a very heart-wrenching night and couple of days. During that period, I got a cold that had me down for a few days. After that I started feeling a little odd and for some reason, my husband insisted that I needed to take a pregnancy test. At this point my period was over 50 days late. I did the test and it showed two very faint lines. We shared the news first with another mum who I call Super Dear Mama (she has a medical background) and she said, "The hormones are trying to decide whether you are pregnant or not."[laughs] So I went back to the gynae because I wanted to confirm the results with a scan. I got the ultra sound and found out I was pregnant! We went from, 'Oh my goodness! We might never get pregnant and if that is how you see it Daddy, we will still love you' to 'Oh my goodness! We are pregnant…but we're not ready!' It was just a roller coaster of emotions. [Laughs]
That was one of those pregnancies where every day was a faith journey for me. Not knowing whether you have a live embryo or not, because you've been told that some of the complications that come with PCOS are that you are three times more susceptible to miscarriages, you have a high chance of pre-eclampsia – the reports are just fear-packed. Where others do one or two scans, I did eight or 10 scans through that pregnancy. Every single time I woke up and was like, "I don't feel" or "I feel", it was, "Okay! Let's go."I saw the doctor every two weeks! Although (because God…) every time I went for these scans we found that we in fact needed to go. For instance, on one of those visits, when I was at 18 weeks, we found out that I was having contractions. I was put on bed rest and given medication to stop the contractions. That pregnancy taught me 'In Him we live, breathe and have our being' on a whole new level. It's not in your hands at all; stay in His hands and rest.
What was your relationship with like God through this?
This first pregnancy came 6 months into our marriage. In our first year of marriage, Daddy took us through a journey of unlearning and learning many things; and one of those lessons was about naming. He took us through a journey where He reminded us how He had changed my husband's name from Muema (difficult, stubborn, hard) to Mwema (good) in 2013 and how that once He did that, things that had previously been blocked for him, suddenly opened up. He was teaching us that even in the Bible, children were not called their fathers' surnames and that though we have been disconnected from these generational things, we continue taking them up by taking the names of our (fore)fathers yet everyone has their own journey and purpose. Names have so much power and destiny in them, it's not even funny.
God had already given us our son, Jezreel's name in 2012. I thought he would be our firstborn; I was convinced I was carrying a boy. Jezreel means "The Lord Himself has sowed." God gave that name when He was teaching me the lengths He is willing to go to communicate to us His heart (love and redemption) and that He is coming very soon. Contrary to my expectations, God gave us a beautiful daughter first; Zara Thandiwe and eight months later, Jezreel was conceived. Then I understood why He had given me Jezreel's name principally. None of our children would have ever been conceived at all if God had not sown those seeds Himself. The words I told the doctor when she gave me the diagnosis were, "I will not take any drugs. If and when Daddy sees it fit for me to carry His seed, He'll plant that child Himself in my womb." It hit me later, "Oh yeah! The Lord Himself plants."
When we began to seek Him out to know what to name our children we sought to know from God what He called each child, since He knows us from before we are in our parents' wombs. Zara in Hebrew means seed or to sow and Thandiwe is a South African name meaning beloved, from the root word thanda which means "love". Therefore, she is a seed (love) sown to the beloved (By Love. For love. Colossians 1:16-20). Our son's second name, Huru, is Swahili meaning free or liberty (2 Corinthians 3:17). In summary, JezreelHuru is one who has been sown by God to be a living epistle of one who is like the wind and is therefore, led (only) by the Spirit.
Now, because of our children, I know what my husband and I have been brought together for: love and freedom. You know, you're mostly tested in the area where your purpose really is and those have been the biggest areas of battle for us as a couple. Those are also the areas where we continue to grow even more as we learn and enjoy what love and freedom in Him really is.
Please share your perspective of your journey as seen through God's lens.
One word, surrender! That is one thing that my life is consistently about; a life of surrender, which is consistent with the love and freedom I have shared about.
I see this every time and in every level, so much so that when Zara was born, where most children are born with their fists clenched, she was born with her hands open. One of the things God was teaching us through these pregnancies was that these children are not ours; they are His. When you live your life with your hands open, so that you literally become His hands and feet, you become a point of exchange between you and God; meaning there is mutual understanding about giving and receiving. You no longer hold back anything that He's already given you; instead, you are aware that you are only a steward; a conduit. That set us free. So then we don't raise them with or in fear and prevent them from going out and literally playing with dirt, or live in the constant fear that they would choke on their food. These and more things the Holy Spirit teaches them, because there's only so much you can do as a parent.
One thing I would want to dispute that many take at face value, is that the Lord gives and takes away. I don't believe He does that. Sometimes you go through life and the bitterness of it and you come to a place of conclusion that is simply not consistent with who He is. I don't think that was the revelation that God gave Job of Himself. I think that was from a place of pain and neither from the place of growth nor the place of Rhema. For me, if there's one thing I know about my Father, He is a giver. Period. Even when you think about the life of Christ, He got to that place of surrender. He was like, "This cup of suffering is not funny, I may not even like it but Your will be done; I'm Your hands and feet. You use Me." And Daddy was like, "Great! Because I know You get what I am trying to give my children in the end." (My paraphrase!)
If there's one thing I want people to understand it's that, because every time someone dies they say, "God has given and He has taken away." I think it's just a proper misrepresentation of who the Father is, and I think if you don't know Him, it's just a sure place of pain you're creating to wallow in.
Is that what inspired your book?
My book is about the whole journey; the faith, trust, love and surrender. He was teaching me these concepts independently of each other, one word at a time in 2009. When He asked me to put them together, I thought they were linear and then one day in 2015, He said, "I Am eternal."Then it hit me that it's a cycle: there's no faith without trust, no trust without faith. There's no trust without love and there's no love without trust. There's no love without surrender and there's no way you can surrender without love. There's no way it can be done without faith and there's no faith without surrender!
Everybody was expecting that I would go bonkers and even wanted me to go through counseling. But He gave me so much joy that literally was my strength and that gave me such a high that many said I was in denial. I was high on the Most High and that high has no hangover! [Laughs] He turned this journey that would otherwise just have been about pain and loss, into one of love and surrender. I have experienced so much overwhelming love as I have seen Him keep His word to me, "I love you and I will take care of you."
Fannis' upcoming book: Surrender: Don't Just Live…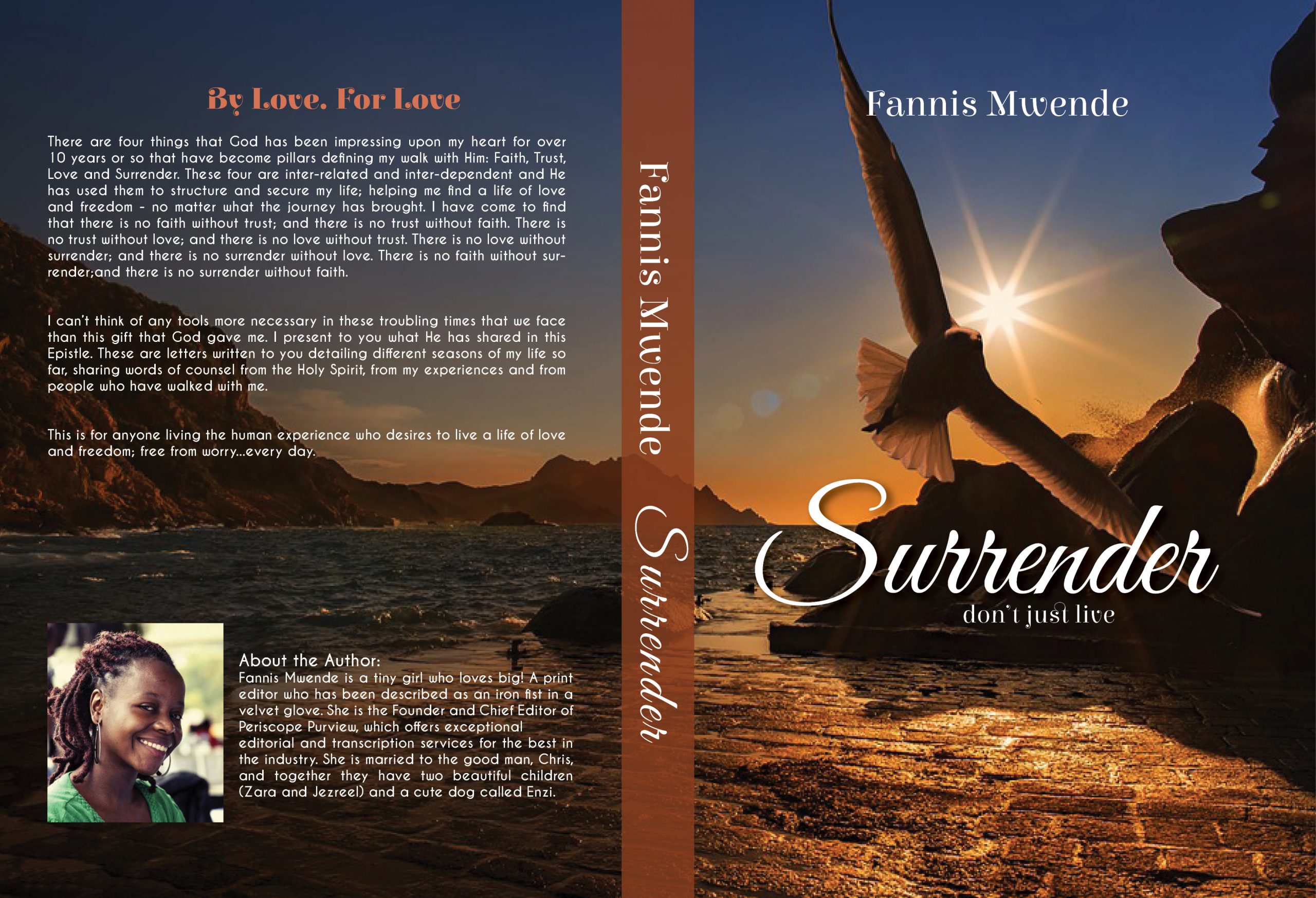 How would you encourage others walking on a journey where they don't fully understand what is happening?
I went through a season of trying to get Him to explain Himself when my cousin, Steve, joined Daddy in His Glory in October 2005. He was like a twin to me; we were born two weeks apart and we grew up doing many things together. I had a twin who didn't survive more than two weeks after birth; we were born premature. I weighed a whopping 1.5kgs at birth! I usually feel that the fifteen years Steve and I did life together verily filled that gap for me. When he went to be with the Lord, I told God that I couldn't live this life without him and asked Him to bring Steve back to life. That night, He allowed me to see a vision of Steve dressed in white. In that vision, Steve told me, "Do not pray me back to life; I know you can, but I don't want to come back. Don't put till tomorrow what you can do today. Life is short and tomorrow may not come; live, love and laugh." Then he told me, "I'm going back to play football with the angels." I stopped asking God questions and started asking Him to give me the grace every single day to deal with not having Steve around. It was done! Pray needs that are also your Father's needs for you, desires that are also His desires. Big clue, they are for good and not for evil; to prosper you and give you a hope a good future. Ask Him for the thing that you actually need for the situation and the season that you are in and you will experience His love, growth and freedom.
Chioma Phillips
Chioma Phillips is the Editor of Msingi Afrika Magazine and the host of Msingi Afrika Television. Her hope is to see the Truth shared, with all who will listen, for the transformation of the people and the continent of Afrika - and the world. She believes passionately in the critical role that Afrika and Afrikans have to play on earth right now and hopes to ignite the spark that will cause them to see and believe who they are, so that they can live out their Truest lives for the remainder of their days.