Using God's Executive Playbook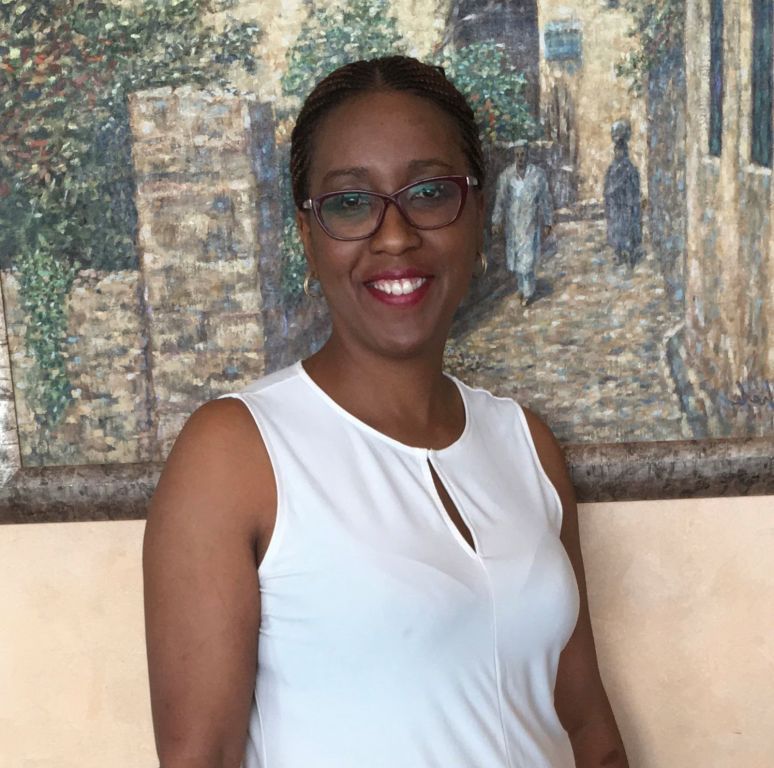 RIZICHI GITHINJI, FOUNDER RIZICHI'S CREATIONS AND DIRECTOR RMM GLOBAL
For too many people, business and/or work are entities that they see as separate – to a small or great extent – from themselves, their purpose or destiny. But, as Rizichi's life clearly illustrates, that couldn't be further from the truth, and until her Msingi was restored, and things made whole and put in order in and around her, there could be no fruitful pursuit of business. Read her journey of restructuring in God's Executive Playbook. For, after all, what does it profit a man indeed, that he should gain the whole world, but lose his soul?
Tell us about yourself and your rich Afrikan heritage.
I'm Rizichi Munyazi Rudo Githinji. I say I am a global child because I'm half-Kenyan, half-Zimbabwean and I was born in England and later lived in England from my university years up until 2014. My dad is from the Chonyi community, which is part of the Mijikenda culture, from Kilifi in Kenya and my mom is from the Shona community from Zimbabwe. I'm married to a Kikuyu from Kenya. I was not brought up with tribalism and my brothers and I grew up speaking English because our parents spoke to each other in English. I'm the firstborn and only girl and I have three brothers, two from a Zimbabwean mother and one from a Ugandan mother.
When people talk about tribalism or their own single culture or insularness, I can't relate to that, because that's not how I grew up. We grew up being able to explore our own and other people's cultures. My parents included us in their work, which influenced me to appreciate my heritage and people as well as other cultures. Our family was brought up to think about our community, think about our family and family building. So, it's from my parents' passion for the people and showing us that we have potential as coastal people, that birthed my passion for my own people.
There's always this joke that coastal people are lazy – and it's true, sometimes they are – but what I learnt from my journey with the Lord is that the laziness is spiritual. It's an apathy that the enemy has used to dampen down a people who had treasure, who God had purposed to be great. These were kingdoms that used to flourish, that used to trade with foreigners, not just their own people, they used to trade inland and out to the sea. And so I went through a process where God showed me what it was that I needed to deal with, the foundations that I had to deal with, in order to be able to become the person that I am today.
I am very passionate about Afrika. Our brand celebrates our Afrikan heritage. I want to see not just my own heritage celebrated, but help others to celebrate their own heritage, whichever way and in whichever form they capture themselves or their products.
Rizichi means 'gift from God' and Rudo means 'love'. My mandate is to be a gift of love to the people, which is really what Jesus was sent to be. So, if I'm to carry that, then I'm to show love and to be a gift to whomever He has me cross paths with.
What is Afrika to you?
Afrika is vibrant, vivacious, full of color, with deep, deep treasure that has not even been experienced. She has been downtrodden, she has been suffocated and strangled over the years, but I think the reason that has been done to her is that they know that she has potential. She is beautiful and whoever or whatever she puts her mind to, she has the ability to birth with ease. Whatever seeds are put down, they grow. From north to south, east to west, there is treasure everywhere. I think there is none that can be compared to who Afrika is.
You've gone through a process with God as an individual and as a business person, tell us about that journey.
You guys are Msingi (foundation); I just love the fact that you are Msingi. God did a serious restoration of my Msingi. I gave my life to Christ when I was 8, I rededicated it when I was 9, then I rededicated again when I was 12 (laughs). With every altar call, I went forward. But I guess the significant times I understood the decision I had made was when I was 8 and when I was 16. I was in Form 3 at 16 and it was during Sunday chapel and there was one minister that came and simply sang a song and it was nothing big. I just felt the Holy Spirit come upon me and she (the minister) simply said, "Is there anyone that wants to give their life to Christ?" and I was the only one that stood up and I went forward and I gave my life to Christ – again. (Laughs).
That began the journey of Holy Spirit speaking to me. I used to hear and see from the time I was young, but I couldn't conceptualize it and even then I never talked about it. I got baptized in the Holy Spirit when I was in high school. One of my friends wanted to be baptized in the gifts and we went and prayed for her. We took her to the tennis courts around 7 pm, after dinner, and prayed and I'm the one that got baptized in the Holy Spirit. (Laughs) She received it years later. My journey with the Lord has been spontaneous; it has nothing to do with me desiring it. It was pap! "Have it! Let's move on." Then He explains it later. I'd see very vivid dreams and I would have visions that would come to pass. The most vivid dream I had then was about judgment day. I remember it was very bright and there were many people standing around a lake and then this bright light came speaking. I would later recall these dreams with understanding.
When I was 17, one of the words God spoke to me was, "I have made you a vessel of honor and your instruction is to obey me." I was not behaving like a vessel of honor, I was not obeying the instructions that He had given me. I was doing what I call being a schizophrenic Christian. I loved dancing but I loved being in church. I did this from high school until 2012. I was in church doing ministry and prayers and I had this other lifestyle. I say that because a lot of Christians do that. They have worldly friends and Christian friends and those lives do not come together. 2010 was a turning point year for me because I was tired of the dichotomy. What was playing in my mind was "What does it profit a man that he should gain the whole world but lose his soul?"
I started my business when I was 19. Fashion was my thing; I studied fashion design and marketing at the university in the UK, where I met my husband. We got married in 1997, while still at the university. At this point, I decided to make my family priority, so I became a stay-at-home mom and I was running my business from home. I started making sauces as a hobby in 2000, and after some years my husband suggested that I make a business out of it. So in 2007, I started the sauces business, with a lot of foundational questions in my mind. I was asking, "Who has God made me?" That became more intense in 2010 during my turning point year. I wanted to hear God for myself and that began a new journey for me. In 2011, however, I became rebellious, my husband and I were having a rough time in our marriage and we decided that each one should do their own thing; eventually, in 2012 we went our separate ways. I moved back to Kenya on my own, crying the whole way home. During that time I was feeling very suicidal and very depressed, but God was speaking to me very clearly and urging me to dig deeper into His vision of love, which He helped me understand through 1 Corinthians 13. Once I processed through it, He came back and said, "Okay, you've got My vision of love, what do you see as a perfect love?" Through this He began to speak to me about my marriage and my husband. I prayed and asked Him to change me, and of course, He began the process.
After a month of being in my room, my brother came to me and asked me to join him for a conference. The pastor who was speaking there had presided over his wedding two years prior and at that time had given me a card with scriptures to read, one of which was 1 Corinthians 13. I had asked him to pray for my marriage and he had said, "Go and rest in the Lord." That did not sit well with me, but fast-forward to that conference he walks in and says, "Today we are going to go into God's rest." Which is what I had heard God say that to me that morning. At some point, the pastor opened up the meeting for people to speak and I went forward and shared what was going on with me and he took the microphone and talked about marriage and submission and some other things. During the meeting, God sent people with very specific messages to me. One person told me that God loves me and gave me a big hug. Another took the microphone and spoke, saying, "I don't know who this is for, but the Lord is saying, "You're going to wash his feet."" The pastor then talked about what washing of feet meant, that it was about sacrifice and that some of those gathered would have to give a sacrifice for the sake of their destinies. The meeting ended and two women came to me, one thanked me for being honest, the other said, "He has given you Isaiah 43 from vs. 19. He said He is doing a new thing and you shall be reconciled with your family." She then prayed for me. I went home.
The next two weeks were the worst, the torment was crazy, but that's when the Lord told me, "He is your husband and you shall go back to him." One day, I called my cousin, who was my best maid during our wedding, and I told her I needed prayers. She and her husband came over, together with a prophet and one of my brothers, who is a pastor. That prophet had prophesied two years prior, something that I had never paid attention to, that I would separate with my husband, but it would be well.
The following week I asked the Lord to help me spend time with my children. I had never been away from them. A short while after, my friend from South Afrika called and said, "Rizichi, I don't know why but you need to go and see your children." I said, "Well, I've just been praying to the Lord about this." She was planning to travel to the UK and offered to pay my way, and later, when her own plans did not go through, she still paid for my ticket and I went to the UK. I had initially planned to visit for two weeks. A friend picked me up from the airport and picked my children up and we went and stayed with another friend. The first day of being in that house, I had a vision of myself climbing a mountain and I knew this mountain was Moriah, where Abraham was going to sacrifice Isaac. I said, "Lord, what is it that You want me to sacrifice?" Almost immediately, I got a text from a friend who said, "The Lord has told me to tell you that He will give you a lamb for your sacrifice." I was surprised. I said, "I don't know if it's my marriage, my business, or my children." And she said, "Darling, unfortunately, it is your business. I know you've prayed and you've put so much into it, but I believe it's your business." So I texted the prophet and told him the vision and the word given and he said, "Rizichi, the Lord is calling for you to go back, for the sake of your children." I asked for a miracle because my husband and I were not communicating at the time.
Long story short, two of our friends got us to have a mediation session; a decision was sealed by my son talking about how hard it had been without me there. Every word I heard directly from the Lord or from others reaffirmed the position that I would go back to my home. When my husband and his friend picked me up to go to his house for our mediation session, I heard, "You shall wash his feet." Which is what that lady had said at the meeting in Nairobi. I heard it again when we got to the house. Once we had settled down to talk, his friend said, "We are going to hash this thing out. You prayed for me when I was going through a hard time. I am here for you, even if we have to sit here until the early hours of the morning." I heard again, "You shall wash his feet." His friend said, "Rizichi, ladies first, go ahead." I said, "I can't say anything, but there's one thing I have to do." I went and got a basin went upstairs and got perfume from my suitcase because the Lord had also given me the scripture about the alabaster box and I knelt by my husband's feet. He asked me, "What are you doing?" I said, "The Lord has told me to wash your feet." And I asked his friend to read Isaiah 43. At that moment, my heart was hard as a stone, but as he started speaking those words in Isaiah 43 and I started washing my husband's feet, it's like that stone rolled away. His friend started crying, my husband started crying and that was our reconciliation. And the business was the sacrifice. People would ask me, "Why aren't you in supermarkets?" It's because I had to lay the business down for the sake of the Lord and that began the journey of the Lord dealing with the foundations of Rizichi.
I remember when we eventually moved back to Kenya as a family, we stayed in Nairobi for 4-5 days, and then we went to the coast. When we were there, I heard clearly, "It's time to clear the ground." What do you do when you go to the Promised Land before you start building? You have to clear the ground. From 2014 up until December of last year has been clearing ground and setting the foundation and fighting all those things, little by little. I went through a season where I had to let go of everything and sit at His feet and submit to my husband. I have seen God transform my heart for the sake of the family and I have seen Him restore my family.
The vision was to build a brand that celebrates an Afrikan heritage and becomes a household name. There wasn't an Afrikan Marks & Spencer that has everything within it. It doesn't have to be a Rizichi brand product, but it's products from Afrika. Seeing Afrika in one shop of items made and manufactured by Afrika. I tell you, I was going for it, by hook or crook. He stopped me in my tracks because what I was doing and the way I was doing it was very damaging to my family and to my husband especially. That was not the correct picture of family, so He was restoring the right order of family. If I had carried on in that way, I would not be alive today, literally. He had to stop me in my tracks to deal with those foundational issues, because if they were not sorted, what was ordained by God, the enemy would have brought crumbling down.
Just recently I completed a mini-MBA and the facilitators of the course asked me to present my business plan to my husband as I would to an investor. I did so, and he made an investment in my business that has allowed it to go to the next level and we partner together in that growth.
By your journey with God, you have become a life-giving product in His hands. How do you transfer that life to your customers through your products and services?
The products themselves are just a physical manifestation of what He takes us through in our journeys. We make chilli products, chutneys, and cooking sauces. All the products that we create have to go through a process. Each product's separate ingredients go through their own processes before they get to us. Once they reach us, they are chopped up, put in heat, sit, heat again, and so on and then put in the dark to sit before you can taste them. Through the process, God has taught me that the gift of the product becomes a gift to the person. They celebrate our heritage, they are all-natural, and not using any preservatives or additives means their natural essence is not tampered with so that when they are taken in they will not harm the consumer. So God has taught me that being myself, who He has called me to be, is what is going to bless and speak to others. This is what is going to bring healing and restoration. Sometimes we disobey by trying to be someone else. That onion is an onion, it will not pretend to be a tomato, but if you put onion and tomato together it will be something great. Apart from it being a business, the products in themselves tell a story of culture and tell a story of an individual and of how the Kingdom works.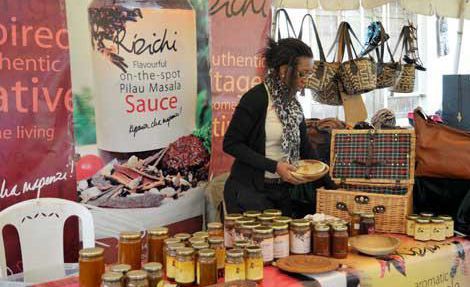 My products are a gateway to my customers. It could be an individual, a company, or a home. I don't look at my customers as just customers. A lot of them have become church because God will tell me to pray for a customer or give me a vision about a customer. If I'm going to work on a home, for interior design, each home the Lord has sent me to is for prayer and restoration and to speak something into that family. If He sends me to land, it is to pray over it, to bring restoration.
Tell us a little bit more about your products and services.
Rizichi is a brand that celebrates our heritage, which is inspired by our Afrikan heritage to touch the sphere of food, living, and fashion. Fashion is obvious, it's clothing, food is the sauces and living is the interior design aspect of things. I have clients who are sick and I'll go into their house and find they are cluttered and so I'll pray about who God has called them to be and we will design and style the space according to who God has called them to be. God has now put it together and so Rizichi's Creations is a lifestyle brand, born of Rizichi, which is the gift of God, using the gift of creativity in fashion, in food, and in life.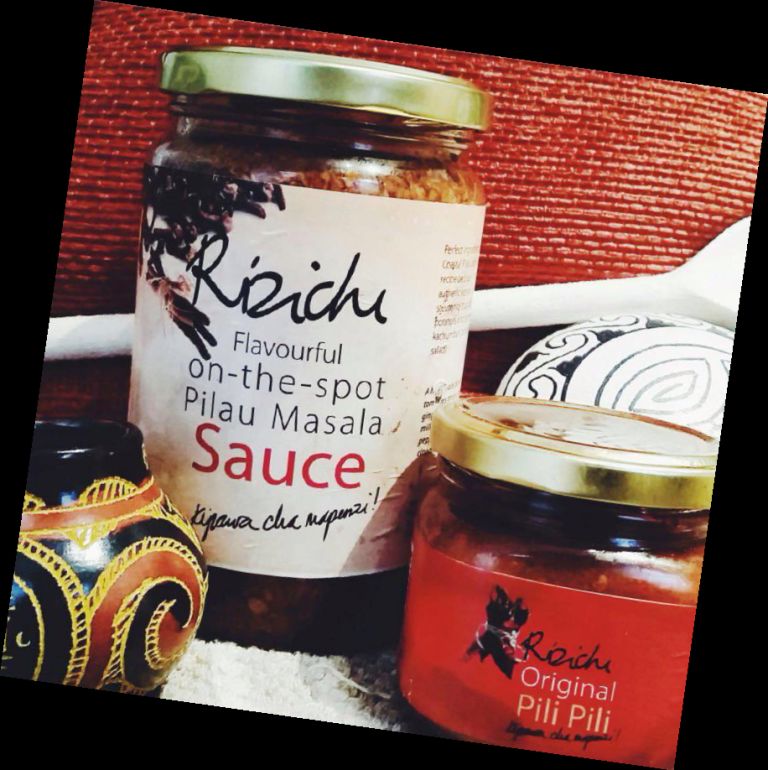 What would you want people to know about life and purpose?
Each of us has a purpose that was ordained by God before time began. One must search out for themselves – if they don't know – who God has called them to be. If you're a parent or parent-to-be, search out who you have been called to be and that which your children have been called to be. I say that a family has a purpose, couples have a purpose, a country has a purpose, a territory has a purpose a continent has a purpose and it all feeds into the whole, at all levels. You should find out where you fit in. You should consciously search out the purposes of God. Daniel knew who he was and what God had called him to be to the point where he knew there was a word that had been spoken about Israel and he searched it out and started speaking it. It is time, as Afrikans, to change the narrative because we know the purpose of Afrika.
When it was time for us to leave the UK, I knew it was time because I just felt uneasy there, but every time I came home I had peace. I didn't care whether we would be living in a mud hut or whatever, but I would have such peace. When I was here, my creativity would just burst; I would feel like I can create anything while I'm here. Not that I didn't create stuff in England. I also know I'm linked to both England and here. So it's about understanding what your purpose is, otherwise it creates confusion. That's why you find people with mental health issues, they don't know their purpose. And I know that's a controversial statement. But that's for another day.
It's quite popular to say that Afrika is the cradle of humanity, and it's true that she is. How do Afrikans translate that reality into personal strengths that can help change Afrika for the better?
The answer lies in the question you asked before; it's about knowing their purpose. Because, if you didn't know your own personal purpose or the purpose of Afrika, then you would not celebrate her and that's why we always sell out because we believe we are not good, we believe Afrika is not good and anything that comes out of her is also not good. And yet, how can a place that feeds the world and has the minerals not be good? Those are physical signs of greatness and goodness.
The other thing that really amazed me when I came back to Kenya, was that everyone except the Afrikans were coming back to Afrika and exploring different nooks and crannies, even by Boda Boda, to search out opportunities. There's something happening here. It's like the way the animals are not told there's water over there, they just turn and move towards the water. How come Afrikans are not doing that? There's something missing which needs to be restored. Even with people talking about 'it's not a good place to invest', they are investing undercover. China has come, Europe has come, America has come and we are selling our birthright very quickly. Can't we stop and ask why these guys are coming here and why we are selling ourselves short?
I believe that the platform that you have is an opportunity for a mindset change. One of the things that needs to happen in Afrika is the mindset change at all levels, whether it's policy change or accepting that we have within us to do what God has called us to do. I'd urge you to continue to break the mold, have those conversations so that they can be thought-provoking, and also push it further so that people can rebuild Afrika.
Chioma Phillips
Chioma Phillips is the Editor of Msingi Afrika Magazine and the host of Msingi Afrika Television. Her hope is to see the Truth shared, with all who will listen, for the transformation of the people and the continent of Afrika - and the world. She believes passionately in the critical role that Afrika and Afrikans have to play on earth right now and hopes to ignite the spark that will cause them to see and believe who they are, so that they can live out their Truest lives for the remainder of their days.