Kenyan Sukuma Wiki with Beef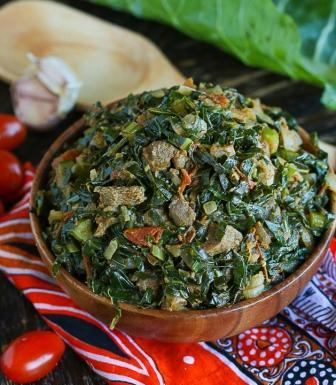 Sukuma Wiki aka braised collard greens or Colewort is a very rustic African dish, enjoyed in many parts of East African countries like Kenya, Tanzania- just to name a few. It is a Swahili phrase meaning, "to stretch the week".
Sukuma Wiki provides an excellent source of vitamins A, C, K & calcium. Did you know a cup of Sukuma Wiki has zero fat and only about 36 calories? The fiber in this lovely vegetable not only aids in digestion, it also keeps your liver healthy, lowers cholesterol and maintains ideal blood sugar levels in your body.
Most people love cooking their greens for a prolonged amount of time, which depletes the greens of their nutrients. I suggest cooking them for no more than 5 min to make sure you get all the health benefits. This dish is exceptionally delicious especially when paired with Ugali.
Ingredients Serving for 4
• 1-2 bunch of sukuma wiki (collard greens) chopped
• 1kg diced Grass fed beef
• 3 medium tomatoes chopped
• 2 medium carrots grated
• 4 garlic cloves grated
• 1 inch fresh ginger grated
• Olive oil (as you desire)
• 1-2 Tablespoon lemongrass powder
• 1 bunch fresh coriander chopped
• 1 teaspoon curry powder
• 1 juiced lime
• Pink Himalayan or sea salt to taste
METHOD
In a medium- large pot, add oil, onions and ginger, grated carrots, tomatoes and sauté for about 5 minutes, stir it all together on high heat. Then lower the heat and cover the pot allowing the onions and carrots to sweat for about 5 minutes. This method allows the sweetness from the onions and carrots to really come out.
Then add, curry, fresh coriander, salt and lemongrass powder and continue stirring for about 2 minutes.
Add diced meat & stir until ingredients have been thoroughly combined. Simmer for about 10 minutes or more. Throw in the chopped sukuma wiki and lemon juice. Continue cooking for another 5-7 minutes until flavors have blended well and greens are cooked according to preference.
Remove from the heat and let it cool. Serve with Ugali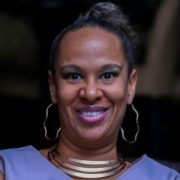 Isabella Baird
Isabella Baird is a passionate enthusiast for all things natural & healthy for the Mind, Body & Soul. She is committed to help people maximize their full potential mentally, spiritually & physically by imparting knowledge of natural health that she herself has come to gain through her life's journey. She is a self-taught chef with over 25 years experience in the hospitality industry where she did her training in Denmark as a professional waitress & gained experience from working in 3 star Michelin restaurants. She loves the art of service excellence in all she does & is in her element when serving others whether it is cooking up a delicious storm using readily available natural ingredients that heals the body to helping people pursue their dreams.