Interview with Amos Onyango
Amos Onyango is the 26 year old Executive Assistant to Prof. PLO Lumumba, he is the manager of the PLO Lumumba Foundation in Africa and he runs his own business, Lawy Afrik and is also an author, his memoir is called Twists and Turns: A Story of Survival. It's a really moving story about someone who has gone through challenges and hardships, but has overcome them with such a positive spirit to be able to rise to the person he is now.
So for those who are thinking to themselves at 26 "Oh no, that's too early I can't amount too much" or, "at 26 I want to be X,Y and Z." We have someone here who has walked a journey from literal struggle to overcoming and with the right heart and mind. It really is our pleasure and honor to introduce you to Amos Onyango!
Thank you very much Chioma Phillips and Samuel, of course. I am very glad, first of all, for what you're doing for this continent because the stories that you're sharing are changing lives, from the likes of
Joramu Nkumbi from Tanzania whose interview you did. I'm very glad that you have taken this opportunity to come and also get my story so that other young people out there can also get to know that it doesn't matter, they can build themselves and be somebody from wherever they are no matter their circumstances or background.
That's true. Why don't you share a bit about your background.
I was raised in a family where I'm the only child. My dad was a business person, my mum was a nurse. I grew up in a town called Kisumu (maybe you've heard of it!), as we grew up, my mum and dad moved to another town called Migori, which is now a county because of devolution in Kenya.
Being the only child, I mean, you know how 'only children' are teased, and the love and support they get from their parents… I didn't know anything of the difficulties of the world being raised in that type of family. I grew up not knowing challenges or any type of difficulties.
At the age of 12, things changed, completely. I lost my mum and later lost my dad. I had to leave the academy I was in which my parents were paying for and join another, which my uncle had promised to pay for during my parents' send off. My uncle was a horticultural farmer, so I used to work at his farm and go to a school where his children were also being sponsored. But things were not easy. I appreciate that my uncle tried, but I have to say that there was so much struggle in terms of that equality of treatment which you get from biological parents. I had to adapt to the environment
That's right.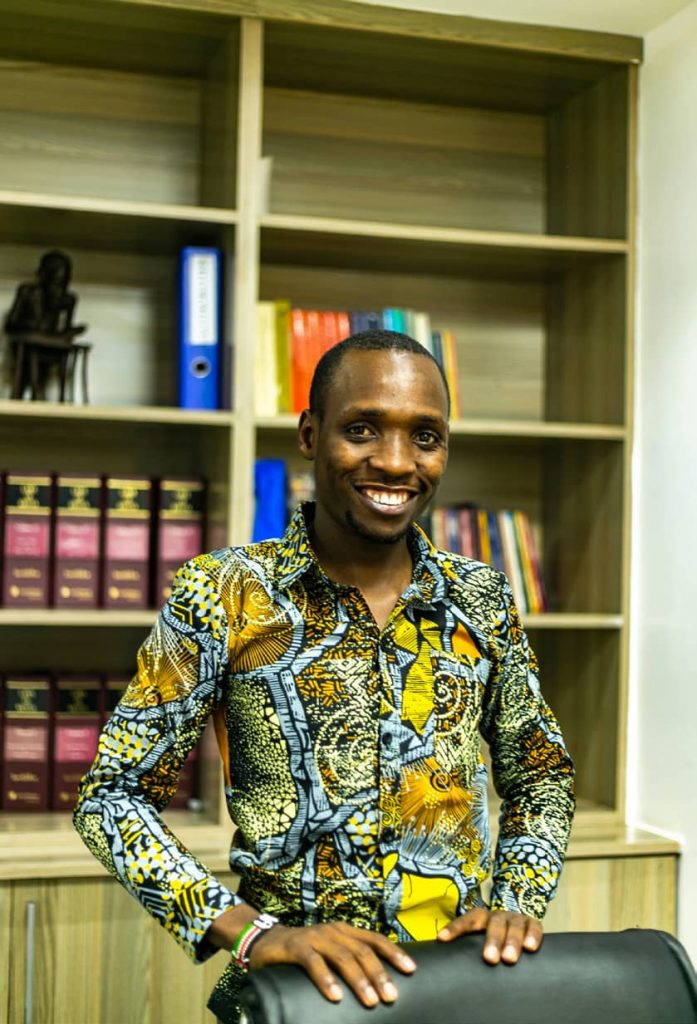 Many times I went to the streets, I sold water, I worked in construction sites just to atleast get something for myself. Later on, I got a scholarship to another academy and finished my primary school. I was then invited to one of the top performing schools in South Nyanza; St. Joseph's School, Rapogi which is a national school. I didn't have any support or finances. I didn't have any siblings to turn to. I only had my grandmum. I didn't have anything in my hand. I had to toil; I went back to work at different construction sites trying to raise money and talking to friends and I managed to get what I needed in order to join the school.
Everything that I went with to school that first day was was secondhand; I got them from friends who had cleared school. These included uniforms even up to my dictionary. By the time I was admitted to St. Joseph's School, I had already moved out of my uncle's place. I felt I was a burden to them and I wanted to be on my own path and to do my own thing. It was then that I found somebody very good, who took care of me called Mr. Amos Okong'o. He took me to school as my guardian because then you could not go to school without somebody who could hold your hand. He also had a family to look after and to balance between them and me was not always easy.
At Rapogi, I survived with the likes of Gabriel Dinda who is now the CEO of the Writers' Guild in Kenya. He is the one who would give me some money or food at the canteen where he was the head. I would go there and my smile usually enticed him and he would give me some bread. He would also advise me because he was a student leader and he also helped me to join clubs like the Christian Union, which helped build me when I was at that school.
I studied there upto my second year, but I was not able to move to the next level because they wanted me to pay for full fees. I had looked for support everywhere but they all turned me down. So I dropped out in form two. I went and toiled for some time and got some money and I came back and I plead with them to take me back. They did but I was not able to sustain my fees and I eventually dropped out completely.
I began selling fries on the streets and there I also met somebody; an old mama who was very helpful to me and she really encouraged me to struggle and keep on working.
You were in and out of school for the most part and eventually you got a scholarship and at some point later joined the university where you became a student leader to many other people.
Yes, I got a scholarship with a group called OVS (Orphans and Vulnerable Students) of Kenyatta University. These are scholarships given to needy and deserving students. I did not expect to get the scholarship, I thought for sure that there was corruption in the system and I would not get an opportunity, but I want to thank Kenyatta University that the process was very transparent and I was selected as number eight out of thousands from across Africa that were interviewed. I was privileged to join KU but I had to quickly make a plan because the scholarship only covered my fees. I even sold 'chapati', 'mandazi' I did a lot of business at KU but what changed and transformed me were the clubs I joined and the service I gave to the students. Through that I was elected class representative. All my years in campus I was the only person students would propose, until the lecturer intervened to say they needed to choose somebody else.
It was at Kenyatta University that I started a clup called The Icon of Integrity Club and that is how I met Professor PLO. The club's main vision was to sanitize campus politics because we found out that mostly campus politics reflect national politics, even across Africa, and you find that whatever they learn there they pick it up and they mess up everything.
We started this as a pilot project to tell young people that they can be who they want without having political titles, because leadership is about taking small things seriously. Like, you're in this room and you've seen that this glass is going to fall and you move it to another place, that is leadership. It doesn't have to be that you have to have big titles, with fines suits and big stomachs.
It's a very personal thing.
Yes. So that's where I met Prof. He was very impressed that I was able to manage a very organized club like that. I invited Prof. with the help of the student union, even though I wasn't in the student union. I didn't win the elections because campus politics is the same as national politics and there are a lot of dirty games in it. But my mission was to change that narrative, which I tried my best to and I'm very impressed that the despite the fact that it didn't help many people who are in campus, those who were in the integrity club organization did benefit. I hear examples of people who are doing amazing things that transform lives in the community. Some have come here, some have even promised to donate to help young people. That alone shows you that leadership doesn't have to be about titles, you don't have to be a president.
When you found yourself living on the streets or sleeping under a bridge and seeing all sorts of crazy things happening or almost starving or wearing torn clothes… What is it that kept you going?
What kept me going was vision. A vision that I wanted to prove to other young people that your challenges should not be a barrier for you to succeed in anything. Most of the time, we young people have pity parties wanting sympathy because their parents died. So what if they died? They cannot comeback, you must move forward, you must find a solution.
If I was seated there waiting to be nursed, perhaps I would have committed suicide by now. This is what young people are going through outside there. I wore torn clothes, I carried water, my hands sometimes had blisters all over, but I didn't give up because I knew that one day things would change. I have to thank God who has brought me where I am and the support from genuine friends and this is what I want to tell young people; sometimes you need to have genuine friends, you don't need to have many friends who don't add impact to your life. Choose the types of friends that you associate with, these friends, the likes of Gabriel that I've mentioned to you, they encouraged me, they kept me going even though I was giving up, my guardian; Mr. Amos Okong'o, the family of Apollo Nyonyi, those are people who made me the person that I am.
I really like the way that you celebrate the people who were the strength in the journey as well. I think that gratitude is such a powerful thing that if we're able to appreciate those who are part of our journey, whether we went all the way with them or not, it also transforms us to see our circumstances differently. And so we're glad that you're now at this point, and so what are you doing with yourself and everything that has brought you to this point?
I came to the PLO Foundation with an idea that I convinced prof to support; mentorship. I'm the one who developed that project together with my colleague called Duncan Okello, who is not here now. We started this project to nurture young people, and that is what I've always been passionate about; to work where I'm able to give back to the society, to share my thoughts with young people and to tell them that this is the way you can do it, and you don't have to have a constrained life.
Here, we nurture young leaders, our thematic areas are: education, health, advocacy, creativity and innovation, then we have arts and culture, which you people are doing very well. We're present in 38 African countries and 10 in diaspora and in Kenya we're present so far in seven counties, but we've received about 400 application from people in different counties who want to be part of the foundation and we are just going to absorb them so we'll have all 47 counties present.
That's amazing.
So, PLO Foundation started in 1990 and it has been silent. It's a project that most people don't know about because Professor PLO Lumumba doesn't like being in the limelight, he likes doing things in the background. So I must say that even though it has not been in the limelight, it has changed lives.
I'm one of those whose lives have been transformed by the foundation, from the mentorship that I've received from Professor and through that I've authored four books. Besides that, he has mentored me and now I'm appreciating the values of Africa, and I came up with a social enterprise that empowers young people which is called Lawy Afrik Technology Limited. So what we do at Lawy is to appreciate our culture, our pride, so we make African products , so what I'm wearing is a product of Lawy Afrik. That shows you that if you decide to do something for young people, you don't need to pay them a lot of money, you don't need to give them peanuts, or give them handouts. Whatever young people need out there is mentorship, and I think Professor PLO Lumumba and other great Pan-Africanists are trying their best, and even you people what you're doing; sharing African stories, you're inspiring, you're telling young people out there that it doesn't matter their situation and they can also make it.
If I was in a situation where I was pitying myself and saying that I'm an orphan, what can I do? Perhaps I would not be here. So it's upon young people to take it upon their hearts that they can make it.
That's true. That's very true. If you were to tell somebody there who is struggling with trying to figure out what to do, how do they break out of extreme poverty or some kind of lack where they are feeling stuck, what would it be? So that they can step out and do something to transform the world around them.
Wow! That's a nice question. Now, first before answering that question I want to say that we young people we're very impatient.
You know you meet a young person and he wants to drive a Benz like yesterday, and you know how life is. You're older than me and even Mr. Samuel, for you to start sharing these stories across Africa and even the globe, you're now international, it was not easy! You know getting that breakthrough was not easy. But when you meet a young person today, he will say "I want you to pay me hundred thousand Kenya shillings.
It's terrible Chioma, it's very sad.
See Also

Our generation is getting hit by get-rich-quick schemes which I think is not the right way to go. I think what we young people who are listening need to know is the culture of patience, the culture of determination, the culture of if I know that I have a little, I have a thousand shillings what can I do with this one thousand shillings if I can't afford fifty thousand shillings? One thousand shillings, that is, ten dollars. What can I do with ten dollars?
I met a lady just the other day when I was coming to work who has been selling towels, and she has been selling them for eight years. This lady is a graduate from the University of Nairobi and she graduated with a Bachelor's degree in Education. It's a very good degree but she opted not to sit there and wait to be employed. She used a thousand shillings to buy towels from a market called Gikomba here in Nairobi and now this lady has invested. She now has firms, she's educating her siblings, she's the provider of the family and she has not stopped what she is doing. So you can see, from a thousand Kenya shillings, it doesn't matter, you don't need to get millions to make an impact.
You know as the great philosopher would say; you don't need that much to make a change in your community, start with whatever you have and then work very hard and say this is what I have, how can we move, which people can support with the little that we have? Because, even God says that if you don't work hard even the little that you have will be taken from you, and those who are working very hard will be added more. So we must move from that culture of expecting much and you're giving nothing, let's work very hard young people, that is all I can say. Patience, focus, determination, and respect to God, those are the things that can take young people to the next level.
Provided you don't respect other people, you don't have that determination and patience you will not reach where you want.
When I was starting the company, I didn't have money, I was just here and as a matter of fact, I'm not paid much, so I started with whatever I had. I have now received somebody who wants to donate machines to help young people so at least they can start something for themselves. So, I can tell young people they can do it as I did it.
It's true. The power of starting.
Exactly…!
It's amazing. So, how do they get this book?
The book is in Amazon, it is also present in different African countries, they can get it in South Africa, in Nigeria; it is published in Nigeria. It's available, we can also organize, they can have my contacts, we can organize for those people who are in Kenya, we can make deliveries, hardcopies, it is available at Prestige in Nairobi.
It's really a good read and it's very inspiring and it helps you get over any self-pity that maybe residual in you, trust me, I read it.
The story in the cover picture alone is the story of singular focus and determination. It's not about being with the crowd, it's about being willing and able to take the hard path in order to make things come out at the end as beautiful and good fruit. His journey, his story is still continuing but at 26 what he has achieved, many people in their 40s are still dreaming of being able to achieve.
Now, is it possible? Of course, here is living proof, but what does it take? It doesn't take casualness. Like he's saying patience, determination, respect for God and others. If your own home, or your own bedroom or your mind is in a state of chaos and lacks focus you're never going to be able to get to anywhere close to your dream. But if you're able to clean up your thinking, your focus and remove yourself from that self-pity and focus on yourself as a solution, you can make things happen and it's not about money; it's about this vision that you have inside you that will drive you to the point of achieving the good fruit that your life is destined to produce.
If you're in the diaspora, as you can see, there are beautiful foundations that are on ground in Africa with solid foundations and solid visions, that you can partner with to ensure that their work actually is able to be multiplied and amplified. You can contact Amos for more details. If you're coming to Africa, come to Africa understanding that, yes there's work to be done, but you don't have all the answers like father Adodo said recently, 'We need to look for projects and programs which are already running, there's no need to re-invent the wheel."
It's not about looking for ego projects or investing where your name will be made great, it's about investing your work, money, time and energy in what is actually viable and positive and will bring good fruit. We're sitting in a room where great leaders of Africa past are hung on the wall, and when we think about them and their lives, they were not going out to tell you that they were great people, they lived their lives to try to fulfill a dream and a vision that they had, that was the pursuit. So ask yourself as you think about Africa, and as you think about your life, What is your pursuit? if you can't reach them directly. Thanks again and thank you so much Amos for your time.
Thank you too for hosting me, this is a very nice program and I would wish to the people who are listening across the world should support such programs. So we hope you're listening and please take your time to build Africa, support Africa, such good shows are very nice for people.
We're so grateful. Thank you.
Chioma Phillips
Chioma Phillips is the Editor of Msingi Afrika Magazine and the host of Msingi Afrika Television. Her hope is to see the Truth shared, with all who will listen, for the transformation of the people and the continent of Afrika - and the world. She believes passionately in the critical role that Afrika and Afrikans have to play on earth right now and hopes to ignite the spark that will cause them to see and believe who they are, so that they can live out their Truest lives for the remainder of their days.