Interview with Joramu Nkumbi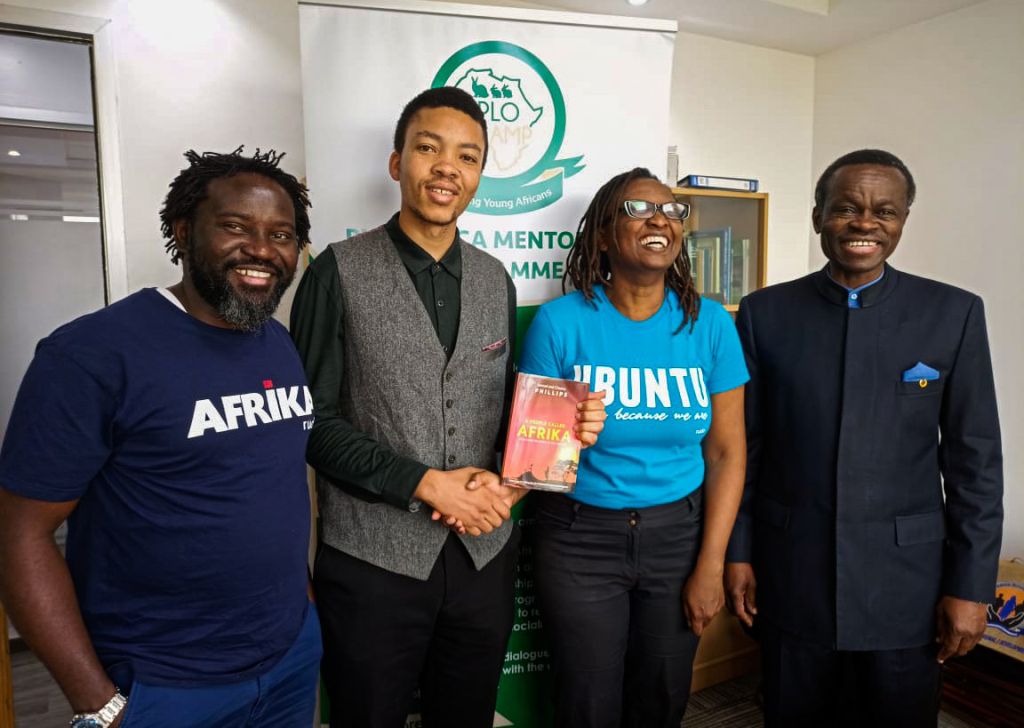 Country Coordinator of The PLO Foundation Tanzania Chapter
We had the distinct privilege and honor of having a conversation with JoramuNkumbi, the Country Coordinator of the PLO Foundation – Tanzania chapter. It was such an exciting opportunity to be able to speak to somebody who has connected to Professor Lumumba in a way that is positive; that proves what mentorship and what an interest in growing communities can do.
Welcome Joramu…
JN: Thank you very much. As you have said, I'm the country coordinator of the PLO Lumumba foundation Tanzania. I'm very happy to be here and to be interviewed by you Chioma.
I first came to meet Professor Lumumba in 2017. After graduating, one friend of mine came and shared with me about Professor Lumumba. I had never heard of him before, but listening to the presentations that he shared with me, I was very much inspired and when I saw the poster announcing that PLO Lumumba would be at the University of Dar es Salaam; the most prestigious University and he was attending 'Kigoda cha Mwalimu' – Mwalimu is the founding father of Tanzania: Julius Nyerere – at an intellectual festival where the intellectuals of the country and from across Africa come together and discuss Pan-Africanism, I had to travel 12 hours from Arusha to Dar es Salaam to go and meet Professor Lumumba.
That's amazing…..
JN: I mobilized the finances and I went to Dar es Salaam, and at that occasion…in that gathering it wasn't easy to make contact with the Professor, but God works in mysterious ways…
I said a prayer that morning; 'God this is the man that I admire so much and I'm going there. If it pleases you let me meet Professor and tell him how he has impacted my life.' I like the idea of Pan-Africanism. And also, he liked Julius Nyerere and has been inspired by him as do I.
At that occasion, I had an opportunity to ask a question. It was not easy you know, the moderator was pointing to the Professors and the University workers, those with PhDs and doctorates.
But at the end of that Q & A session, the Professor noticed that I was raising my hand and not getting an opportunity to ask a question. Then he said, "There's a young man there, he has been raising his hand throughout and never recognized, I would love to give him an opportunity to ask a question." Then I took that opportunity, I asked him a question and I said 'I have a gift for you; the badge of Africa painted green. If you don't mind I would love to present it to you.' Then he gave me an opportunity and I went in front of the masses: The Professors, the vice Chancellor, the old men of the country, the public and the national media. I presented that gift to him and from there we connected, he gave me his business card and then we started chatting and communicating, little did I know that I would be appointed to be the country coordinator of PLO Lumumba Foundation Tanzania.
I grew up in a family and environment where there were no people believing in you. But in my High School; Cornerstone Leadership Academy, they started to train me in the area. I remember my headmaster used to come to me and say, 'Jo', you are the light of the world" and something I never heard before; 'you are the salt of the world.' High School a turning point in my life, then I went to the University then I met Professor Lumumba.
Connecting the dots, then I realize there's something that I need to do for my community; giving back to the community. I started to reach out to high schools, speaking to young people inspiring them to do better than their best. I've had an opportunity to move around many Universities in Tanzania speaking about the message of Africa, awakening the minds of young people.
Tell us about the PLO Lumumba Foundation. What exactly does it do?
JN: At The PLO Lumumba Foundation we are in the business of distributing ideas and inspiration to young people. You know the image of Africa is not good, the statistics about Africa are not good. So a child born in Africa and listening to that news – toxic news from international media – may have no hope. What we are trying to do is to restore the image of Africa, sharing that there's greatness in Africa, that we can do better, we have been greater and we can be even greater. That we can go anywhere and compete, we have got everything we need here. The natural resources we are blessed with, if we use them better it can benefit our community. So we are inspiring young people to think and to also go back to the message of Pan-Africanism, and also like what we have communicated earlier, it is very important to remove these ideas of embracing only our nations.
At the PLO Lumumba Foundation, we are championing the message of unity and reconciliation across Africa; we want to see Africa without borders, we want to see Africa united with one currency, possibly with one army. The only way we can liberate this continent is through unity, and unity begins with me and you. If we unite in our spirit, like for example when I meet you in Kenya, I see you're like my brother, you're like my sister, you know there's no difference until when you speak and introduce yourself. When I look at my brother (referring to my husband behind the camera) he's like the Tanzanians, he's like the Ugandans, only when you speak do I notice where you're from. We need to embrace this Africanness and see ourselves as one.
Africa is also blessed with young and energetic people, for example, more than 75 percent of the African population are young people under the age of 35, you see! So we have labor, we have people, and now giving them the right information they can do so much more. Africa has 1.2/1.3 billion people which means we can do business, we can trade with ourselves, we have people. And it's a challenge right now that even as we are talking, Africa is not doing business with ourselves. Referring to the words of Ali Mazrui the Professor here in Kenya who once said, "Africa consumes what it does not produce, and it produces what it does not consume."
I read one day some statistics that stated that Africa contributes only 2 percent to the world's knowledge. So you can see we are even consumers of knowledge, we are not producing knowledge. But when you go back in history; education was invented in Africa. The Dogon people were far beyond their time, Nkoloso from the nation of Zambia, before the Americans went to the moon, he wrote a paper about his own plans to be the first to land on the Moon even before the United States of America.
We have people, we have brains; if we come together and champion this, we will take Africa to the next level. I am here in Kenya in the office of Professor PLO Lumumba to fetch knowledge and inspiration. This is a lifetime well, it's like a river. Whenever I fall short of wisdom, or inspiration and I come across Professor PLO Lumumba I get baptized again. So I am here to take the message. What I do is I learn and I teach, I do those two things in life. So whatever that I have got, the inspiration that I get, it's now like a burden to take it back to the community, take it to the University, to the market places and share it with other young people. It's because by doing so we will liberate our countries.
I am a man of faith and I believe that someday, someone will come more powerful than us all and he will do greater. I've been given this opportunity and I know that I am not worthy, that's why I'm passionate to do even more, Waswahiliwanasema, 'Vunjamifupaangaliunayomeno,' (The Waswahili say break bones while you still have teeth)and so I want to break the bones now that I have time, I have teeth, because the night is coming when no one will be able to work. This is the daytime as young people we are supposed to work.
That's very inspiring! How old are you?
JN: I am 29 years old.
See Also

Is there something that you can say to our readers to help them get to the level of hope that you managed to get to in order to push the way that you're pushing for Africa to see her liberty?
JN: If you're listening to me and you have been born in this part of the world; Africa, or you have originated from Africa. I would love to tell you that there's something that you need to do. Move around the street corners, move around town and see for yourself that there's so much that needs to be done, and if you're not encouraged enough to stand up and do something for your community, no one will do it.
Liberation starts with you. We have heard the message of good people like Professor PLO Lumumba, there's a lot of information that he has shared. So, that's why we are inviting you, I have been invited to this great movement, I'm also inviting you, come and be part of this great movement. Let us start to inspire one another, Africa needs you, Africa needs me.
Start by being a champion of reconciliation, a champion of peace; spread peace wherever you are, hasten your own heart and your neighbors'. When we do so we will shut down the guns. Agenda 2063 the Africa we want, our forefathers; they envisioned Africa without war and their vision was to get the guns shut down in 2020, but we are in 2020 we still have wars, we still have bloodshed, that's why we want to invite you as well, we want to see a prosperous continent, prosperous communities, and we can do it.
Let us unite, Africa is home, there's a lot of potential in Africa, Africa is blessed. Let us not turn this blessing into a curse. Thank you very much for listening, my name is JoramuNkumbi and I love you. Welcome to this great movement.
As you can see the power of mentorship in the life of Joramu; it speaks. And he is not alone, the PLO Lumumba Foundation has chapters all across Africa and in the diaspora, and they're working hard to ensure that people have the tools and resources, and the connections that they need in order to make a change and a difference in their communities.
You can do it, you can join the movement. We are happy to put you in contact with the PLO Lumumba Foundation, just let us know. Something is possible, even if all you need to do is listen to somebody like Joramu or somebody else in your own country, just to get to that place where you are encouraged to begin what is in your heart, that is sufficient. We will connect you to whoever we can connect you to, just step forward and do something.
Note: Please watch the full video version of the interview on our YouTube channel. Follow the link below:
To learn more about the PLO Lumumba Foundation, please check out their website at the link below:
https://plofoundation.org/
Msingi Afrika Team
Passionate about getting God's message concerning Afrika and the end times to the world, in order to heal, restore and rebirth Afrika to her true purpose and destiny in God.