I am a Nigerian, yeah! But I don't joke with anything jollof, as it happens to be among my favorites (lol). All West African countries have their own version of jollof rice and there's a long-standing friendly competition between West Africans (especially Ghanaians and Nigerians) over which country has the best jollof, well that's a topic for another day.
The basic ingredients for Ghana jollof is rice, (any kind of rice is fine), fresh tomatoes, tomato paste, onions, ginger, and chili peppers.
Other ingredients that can be used include red bell peppers, garlic, thyme, bay leaves, nutmeg, chicken bouillon cubes (usually Maggi), and chicken broth. Traditionally Ghanaian jollof is cooked with meat in the rice rather than as a side dish, but I decided to give the recipe a twist by adding shrimps and some veggies.
Recipe:
3 cups rice
A handful spring onions/scallions
A handful parsley leaf
10 medium shrimps (raw)
1 chicken breast (chopped)
Fresh tomatoes (as needed)(chopped)
Vegetable oil as needed
Chicken broth (as needed)
Thyme (as needed)
Curry powder to taste
2 Bay leaves
Red bell peppers (desired quantity)(chopped)
3 bulbs onions (diced and blended)
Garlic seasoning (desired quantity)
Ginger seasoning (desired quantity)
Scotch bonnet pepper (desired quantity)(chopped)
6 tbs Tomato paste
Salt to taste
Seasoning cube to taste
1 tbs ground nutmeg
1 tsp black pepper (optional)
2 cloves garlic
1clove ginger
Crayfish (optional)
1 cup diced carrots
Green peas, as needed
Cooking Instructions
• Season the chicken with the seasoning cube, salt and 1 onion and cook till almost tender.
• Chop the chicken breast into cubes, slightly fry in heated vegetable oil and set aside.
• In a blender, blend the pepper, tomatoes, one of the remaining onions, garlic, tomato paste and ginger together with some of the chicken broth.
• In a dry pot, add part of the oil used in frying the chicken and fry the remaining sliced onions for 2 minutes.
• Add the tomato puree to the fried onions and cook, stirring it continuously for about 10 minutes to remove the sour taste and to make sure the moisture dries up.
• Wash your rice In clean water and sieve (you may need to parboil depending on the kind of rice).
• Pour the chicken stock into the gravy, add a little water if you feel the stock won't be enough to cook the rice, add your spices; thyme, curry, seasoning cube, garlic and ginger powder and Bayleaves. Add crayfish if you want. Stir and taste for salt and pepper and adjust if necessary.
• Pour in the rice and stir until it's properly mixed with the gravy and to make sure nothing is sticking to the bottom of the pot. Add the shrimps, diced fried chicken, and the diced carrots then cover the pot, first with foil and then the lid of the pot.
• Leave to cook on medium heat for just 10 minutess or until the water is dried up (You don't need more time because of the foil as it retains a lot of heat).
Your Ghana jollof is ready!
Note: You can add the spring onions, green peas and parsley to garnish. Serve with plantain and salad.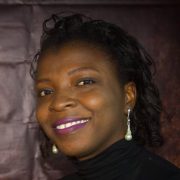 Ayoola Levites
Ayoola Levites is a Caterer, Food consultant, Recipe developer, and Addicted foodie based on Lagos, Nigeria. Betay's Kitchen is her teaching arena.