I was getting worked up with my business because it was not working as I wanted. I had challenges with team members, finances, client acquisition and retention, and management. It felt like I had worked for so long with little return. It felt like this dream of a successful business was an effort in futility I should give up and walk away. I was at the end of my tether.
When I shared my sentiments with a fellow business owner, she felt the same but had a different state of heart. She was balanced and calm. She was hoping it would work out. She had a plan for today, another for tomorrow and a community.
I took so much time to process and think before it occurred that I was TIRED. Not just regular tired but soul-deep tired, worn out until my thoughts and spirit hurt. Oh, you do not get the depth of tired so let me break it down:
EMOTIONAL – I was short-fused and exploding with every feeling possible. My tears fell at will; anger bubbled to the surface. Joy and sorrow mixed like coloured water. In the end, the dejection overshadowed joy and destroyed it. Why? Building a business amid all the other things of life can drain one emotionally. There are some major highs and some deep lows that make life feel like a permanent roller coaster.
MENTALLY – It hurt to think. I woke up every morning mildly rested physically but mentally frazzled and fried. It felt like my brain had taken a sabbatical without warning and was only processing life-giving functions like breathing, walking, and swallowing. I chose not to deal with anything outside that spectrum and stunted myself. Why? There is a lot to think about, think through, decide on and execute. Sometimes, it feels like you are always on edge or processing something.
SPIRITUALLY – Ah…this one. Where was the God who sent me to this battlefield? Why was He so distant and silent? Who did he think he was to walk away? (Yes, I thought that). Why did he decide he was not speaking to me anymore? Ah! Faith is the currency of life, yet sometimes, things seem to be taking too long to turn around, and it grates on you and pulls you down.
PHYSICALLY – When all else is not on par, your physical energy is severely depleted and needs daily renewal. During this season, my mind would not shut down at night, so my body could not rest. My heart and emotions raced all day; my body was always playing catch up. My heart was sad, and my soul was weary, so the frame carrying all these was exhausted and made room for the depression and fatigue to take root and fester. Once the body lost this battle, there was little hope for the heart and spirit to remain strong and steady.
As I reflected on my conversation with a dear friend, I realised that I had to guard my heart and mind more. Every phase of the business needs a different kind of energy and support structure. I must keep building and restructuring it.
The start-up or formative years of a business are at full throttle for the owner. Everything is on your desk. If you do not send the bill, there is no money. If you do not execute the work, there is no money. If you do not talk to the client, there is no money. Everything rises and falls with you until you generate enough revenue for a team or leverage your networks to deliver what you need to do. This stage is not about how many years you have been in business. It is a function of your mindset and ability to deliver. It is possible to last decades if you are not careful.
See Also

In the growth stage, the business is growing and scaling, there is a team to help carry the load, and you focus on strategic thinking. You have learnt to delegate with authority (hopefully) because you have a team you trust to get the work done well. You are a strategic decision maker with a management team to do the daily work hence freeing you to plan in rest. The challenge is often the business owner's willingness and ability to delegate their authority. There are many stages of growth and no limit to how much a business can grow other than its ability to respond to customer needs, expand operations and collect what is due to it.
Building businesses is neither easy nor for the faint-hearted.
We must be kind to ourselves as business owners because our enterprises are only as good as we are. A tired owner creates a tired and limping business; an imbalanced owner leads an imbalanced organisation; an angry owner leads a toxic enterprise. If we do not trust our teams to deliver, our businesses do not inspire trust. The realisation that I set the pace for my business shook me because I could see the future if I did not stop.
Be patient with yourself and take care of your health.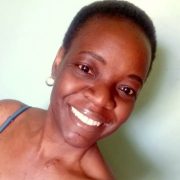 Kyesubire Greigg
A Kenyan visual scribe, storyteller using words and images to connect all aspects of life. She powers from faith to food, health, nature in ways that encourage viewers and readers to find balance in life through its connectivity. PASSION FOR THE ART Passionate about telling HIStory of hope, love and family.