Pilau is a spicy rice dish cooked with mutton or beef or chicken. It was not indigenous to Kenya or the East Afrikan coast but likely found its way here through Middle Eastern or Indians who made their way to Afrika. It was then adapted by the locals and given its own local twist. It is one dish that points to the heavy influence of external cultures on the local culture. It is a meal that is prepared for festive occasions.
Ingredients:
• 1 cup rice (500g)
• 2 large onions
• 1 clove crushed garlic
• 1 crushed ginger
• 20g pilau masala
• ¼ cup vegetable oil (coconut oil)
• ½ kg meat (goat, chicken or beef)
• 1¾ cups water
• Salt to taste (Himalayan salt)
Directions:
In a cooking pot, fry onions until cooked (but not burnt – this give color to the end product), add garlic, ginger, salt, pilau masala, allow to cook for 2-3 minutes, add meat and let cook until meat is cooked.
Pour in the rice, stir to combine the meat with the rice, add the 1 ¾ cups water and bring to a boil over high heat with the cooking pot uncovered.
Once the water level has gone down, lower the heat, cover and cook for a further 10mins or until water has dried up.
Turn of your heat, fluff the rice and set aside for about 10 mins.
Sit and enjoy with a salad (kachumbari) with tomatoes, onions & chillies.
See Also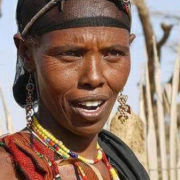 Appreciation: Thanks to health food and nutrition expert Sarah Wambugu (Kenya) for this timely article on how to make the Kenyan Pilau.
Msingi Afrika Team
Passionate about getting God's message concerning Afrika and the end times to the world, in order to heal, restore and rebirth Afrika to her true purpose and destiny in God.