WHEN LOVE SPEAKS, BABIES LISTEN
TOTO CARE BOX AFRICA TRUST
Speaking with the Toto Care Box Africa Trust team at their Nairobi office was such a fellowship of love and life. The fragrance of the Father's love was present and every heart was filled with freshness and a renewed commitment to the heart beat of the Father as regards the ministry of love and compassion to the needy and the less privileged in our society.
You will love this beautiful team and their love for God and humanity.
L-R: Helen, Jacky, Shiko, Angie and Lucy
We sat with Lucy Wambui Kaigutha, Public Health Consultant Specialist, Founder and Director of Toto Care Box Africa Trust, her sister Angela Kavila-Kwinga, former Pharmacist and now Operations Officer at the Trust and fellow Trustees Jacqueline Wairimu Gachihi and Helen Wanja Kariuki. We listened to them talk about this amazing initiative that is not only restoring dignity to moms and newborns and their families, but also contributing to saving lives. They have the tenderest hearts for one of the most delicate of missions.
Lucy: Where did we begin with Toto Care Box? I'd say 2011, I was interning as a Public Health Researcher for University of Sheffield. I was pursuing my Masters' in Public Health and I was conducting a study on how carers identify and manage illnesses in children under the age of five, especially in the very marginalized areas. We went to West Pokot to a very remote village called Marich and there was this lady who lives in a very dry area, in a manyatta. Her baby was just about a week old and she had five other children. The situation was very dire. They were basically asking for food and water and I had signed a form saying I would not give any incentives to bias my research. In that whole crowd I was the only Kenyan and I could understand and communicate with them and I remember leaving there with a huge tug in my heart and with tears in my eyes, wishing I could do more for this lady, considering their impoverished setting.
I went back to the UK, finished, and came back home. Angela had come back before me. When I returned, I was told I was highly qualified but that I didn't have experience. I was so sure I would come and get a big UN job. That didn't happen and so I was doing a lot of volunteering and Angela and I were hustling, selling meat and cookies, just trying to get by. I was at home one depressed morning because I couldn't find a job and on Facebook I saw this article, "Why Finnish babies sleep in cardboard boxes." It talked about how during the Second World War, the Finnish government introduced a simple box with a lot of items for the mom and the newborn, because there were really high mortality rates for mothers and newborns. It talked about how it has become such a part of Finnish culture that every mom gets a box until today. So Finnish babies have basically been sleeping in cardboard boxes for about 80 years now and because of this box and their advanced healthcare system, Finland now has the lowest deaths in moms and newborns. I was just like, 'Wow, this is so cool!' Considering that in Kenya we lose approximately 17 mothers every day during childbirth. That's a 17-seater matatu crashing every day and no one is making enough noise about it. And they die from causes like sepsis, hemorrhage, obstructed labor and these deaths are preventable. Also you find we lose about 40,000 newborns due to preventable causes as well, like malaria, neonatal sepsis, cord infections and diarrheal diseases.
I shared it with Angie and I was like, "I read this thing about this box, we need one here!" And she was like, "Oh it sounds like a fascinating thing." And we kind of just left it on the shelf and continued selling meat and cookies! [Laughs]
Angela: I'd been in the UK for about 16 years with my family and in 2012 we relocated. Since I'd studied Pharmacy, I came back and started the intern program with the government. For two years I worked for the government in Kiambu, and it was eye-opening; I learnt a lot about our healthcare system. Devolution had just happened, and I think the Counties were trying to just figure out how health works and so I spent a lot of time as a Pharmacist telling people there was no medicine in the Pharmacy… and that was just soul-destroying. My husband said, "Why don't you just leave this job? Why not just quit?" I said, "Quit and do what?" But one day at the end of December 2014, I was just like, "You know what? I can't do this anymore." So, I left.
In 2015 we went through loss, our brother passed away and we lost our father-in-law. When you go through loss it just re-jigs you and you realize what actually matters in this life. 2015 was a blur for all of us; we were all in a pit. Maybe that was the threshing floor, because I think that's where God found all of us. So 2016 is when I met up with Jacky. We had been students at the Manchester University of Pharmacy together and then she left, but I continued. We were tired of just doling medicines out to people. I had experienced that in the UK and I think she had seen it for herself. We both didn't want to just keep giving out medicine and people were getting sicker instead of better. So our first initiative was to start a lifestyle consulting outfit, which we registered and then the day we were supposed to meet our lawyer, I told Jacky about Lucy's idea about Toto Care Box and then she said, "You know who needs to hear about this? Shiko!" [Jacky's sister, Catherine Wanjiku Mueke, who is a Doula, works in maternal health and is also a fellow Trustee at Toto Care Box Africa]. I called Wambui; I remember those words, I said, "Your life will never be the same again! Get a box. Put everything you want in that box; you're pitching next Friday." And she did and we pitched the idea to Shiko, five of us sitting on the floor of her living room. Therein began the Toto Care Box story and Shiko just catalyzed it, she was like a little explosive! [Laughs]
Lucy: She said, "We're going to register it now, we're going to do focus groups…" That's what we did, we jumpstarted the whole process of registration, we got the box with the things that we thought that mothers would need – our target was that lady in Marich – and we held focus groups with some moms. Jacky is such a connector for how Toto Care Box worked because she used to work at Dream Center in Langata, which supports HIV positive moms from Kibra area from the very low economic groups. So we got a group of 27 women and we had a box with maternity pads, a book, baby clothes and the things we thought that they would need. They told us to take out the book, include soap, water guard and a leso (cotton wrapper) for the new mom. Community participation is very important in an intervention. We had focus group discussions with other health professionals, ex-nurses, midwives, pediatricians and we were good to go. Our mom gave us the first donation for five boxes.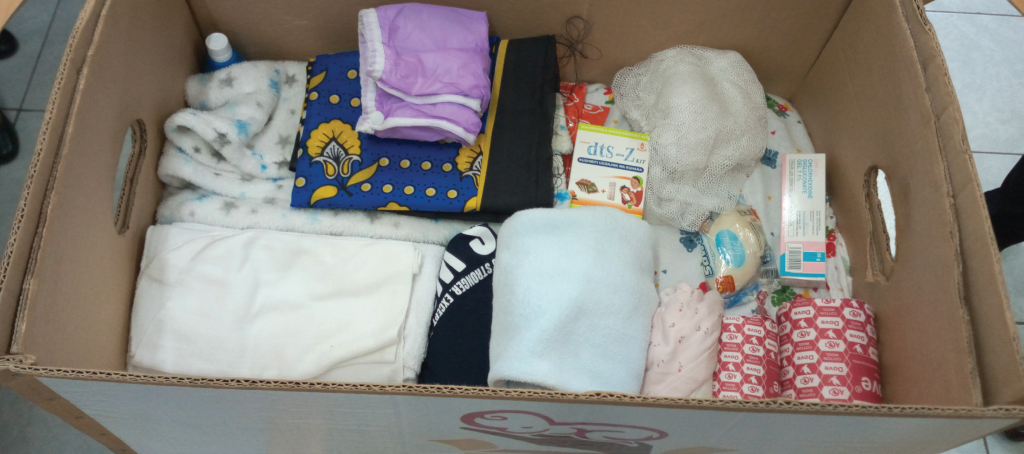 Jacky: I think 2015 as Angie said was such a threshing time for all of us. 2016, joining Toto Care Box gave me my life back.
All: All of us.
Jacky: So now we have the boxes, and we're looking to see who we could help. Where I was living, the lady who was helping me clean the house, her name was Lena, her daughter was pregnant and was expecting to have a baby so we thought, why not start at home. We hadn't told her, we just thought we would surprise her with one box.
She called me one morning and said, "I'm sorry I can't come in to work, my daughter was in labor all night." We all got into the car and went to Kenyatta Hospital.
Lucy: We were carrying all five boxes because we thought we would give them out to other women.
Jacky: As we were parking, we called Lena so that we could find out where she was and she was crying. And so we said, "Lena, what's wrong?" And she said, "The baby didn't make it." We found a parking space and we went upstairs. Before we gave any box, I think God wanted to just put an image in our minds for what it would mean for us not to do this. We found Lena and she kept insisting that we see the baby. The baby was gone and we were all reluctant to, but felt like we needed to. We stood there and were encouraging Lena and she was crying and we were crying and we looked at this handsome, fully-formed baby boy who had died because his mom was a young first-time mom, about 23, and she was ashamed of what she was going through and even to her own mom she couldn't say that she was in labor. As a result her mom discovered very late and she ended up having obstructed labor and it was during a doctors' strike so there were no doctors and…
We stood there and just watched this little baby who had passed away just before we got there and I think for us that really was such a sobering moment; a reminder that this is not business-as-usual but that this was something that God wanted us to do and this is the consequence of what happens when it doesn't get done. We lose lives, we lose moms, we lose babies in the process and families get broken. For us that was such an encounter.
Lucy: I think it was God saying that this is a matter of life and death. We were going to give boxes, but now we were arranging a funeral.
Jacky: We realized that because Lena was a single mother who had separated from her husband, she didn't have any land to bury her grand baby. So, we had to help her think through how to get the death certificate and where else she could bury the baby. It was a full day and we ended up giving the boxes to other moms.
Lucy: There was a lady called Doris and she had two premature babies, twins. That meant she, her husband, the twins and their three-year-old were sleeping in one bed and it's as tiny as you can imagine. We gave her two boxes and went with her and showed her how she could put the boxes on the bed. You could see how having the Toto Care boxes for her twins completely changed her life, just to bring that dignity back in terms of newborn care for an extremely needy mom.
Angie shared that story and another on Facebook and people shared her posts. Before we knew it we were being called by different media houses. From those five boxes we have done 1,837 boxes so far. We have impacted more than 3,000 people as individuals, about five communities and it reached a point where people wanted to give and we opened up a local crowd-funding account on M-Changa and we've raised almost KES 6 million (US$ 60,000) so far and we've done a lot of grant writing… though we have never won!
God has been super-faithful; we have never lost a chance to give boxes. We gave the boxes as a pilot in Mukuru slum in partnership with Lengo Medical clinic where one or two moms used to come and give birth per month and now with the boxes there are about 70 that come to give birth per month and it's become a full-blown maternity health center. We've partnered with Dream Center and we've been giving them boxes for the HIV positive moms and we've partnered with Maisha Foundation run by Chilean midwives. They have a pregnancy crisis center for women in Kibra who are going through domestic violence or incest and are refugees.
We wanted a program where someone would come and support us for five years, but that never happened. We've had people giving and we've also had Nairobi Chapel and an organization called Tin Roof who help us with crowd funding in and outside of the country. Now it has morphed into a CSR solution for a lot of corporates. We partnered with Afristar, Absa Barclays, Transcentury, and Buckles in the UK who have been our biggest donors to date.
See Also
The way this works is we map out a very needy area, partner with a health facility with good quality maternal newborn health services, and we plug the box program into their ante-natal care program so we don't reinvent the wheel. When a mom comes for a routine ante-natal care visit – and she has to attend four such visits – she's trained on the use of the box and once she delivers she gets a Toto Care Box. After receiving the box we have a project coordinator who does home visits because the post-natal period is a very critical period for mothers and newborns and we run the risk of losing them during this time as well, so we go check on how the new mom is doing and if the baby is ok, if they are using the boxes and the items well and if there are any issues. We try and give holistic care for the mothers and babies.
There was always a huge question about sustainability and funding. One grant we were pitching for that we wanted to win was for Turkana County. They have a high mortality rate, almost as high as South Sudan. We went to Turkana to really understand their needs and see the county health facilities, because that's where we wanted the box to go. But the box wasn't well received. Some thought it was a coffin others said livestock would eat the box and so we said we needed to contextualize it to the needs. We visited a Catholic Church and they had a crafts shop and they had one of these – points to the baby baskets on display – so we said imagine using that and putting different items in it from the box. We did this, covered it with the net and talked to a couple of moms and they said they would be happy to have those as an alternative to the box.
We came back with the box and the basket and we made our presentation to the 'big' NGO funders but we didn't win. After that, the basket idea was shelved for a little while and it stayed in the office.
Angela: Shortly after this, I thought about how my baby had used a Moses Basket in the UK and I thought there's no one actually doing this in Kenya (i.e. beautifully trimmed baby baskets on a wooden stand). So we partnered with Mrembo Africa and they came up with the concept of trimming the basket and mattress with Ankara fabric. I then got my carpenter and gave him a picture off Instagram to make some stands. The first one couldn't fold, but we didn't give up. Eventually we came up with this and we called it the Toto Care Kapu, which we sell to a different demographic of mums and every basket we sell provides for a Toto Box, because we want to be sustainable. We haven't sold that many baskets because the demand is a bit skewed.
But this year, because of the traction the box is getting, we've had a few clinics approach us because they want to raise their ante natal facility uptake and they want to buy boxes from us and want us to teach their women. So our sustainability has finally come, three years later.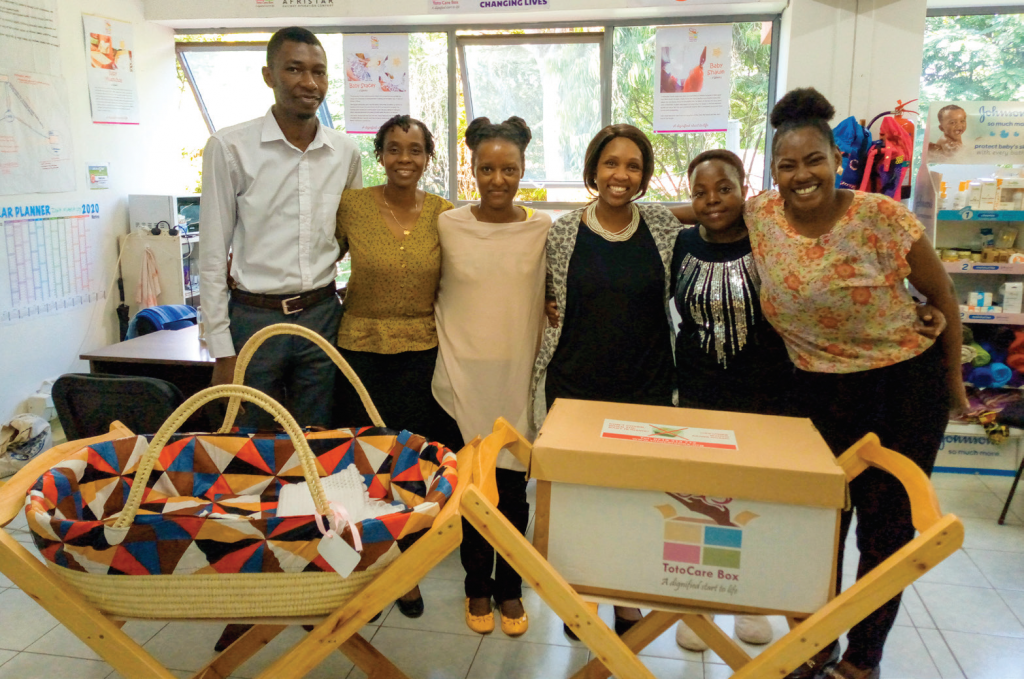 Do you guys have any plans to expand your scope outside of Kenya?
Angela: We would love to. We presented to a friend of ours who has a link to Tanzania, we have had queries from Bangladesh, but we wanted to perfect and get the model right here before we did that.
Lucy: We've had talks with Johnson & Johnson, I've talked to a lady in Cameroon and we've had the British Baby Box who wanted to support us. We've had queries from Angola and Uganda as well. The impact has been amazing. We've worked with Lengo, improved ante-natal care visits by 100%. We've had women come from as far as Mombasa and Moyale to do the four clinic visits, deliver and get the box.
We're learning as we go and it has become also a stigma-breaker in terms of teenage pregnancy, so the girls are coming in early because they realize they might as well go for the four, deliver and get the box. Our mission is to preserve and protect the health and welfare of newborn babies. There are so many interventions for pregnant moms and infants but no one is really taking care of the newborn and that's where Toto Care Box fills the niche.
Visit: www.totocarebox.org to find out how to support them or make a purchase.
Msingi Afrika Team
Passionate about getting God's message concerning Afrika and the end times to the world, in order to heal, restore and rebirth Afrika to her true purpose and destiny in God.