SIMPLY DO GOOD: THE HEART OF DOING GOOD IS QUITE SIMPLE
We met the ladies of the Simply Do Good Kenya team at the offices they share with the Toto Care Box Africa Trust. They walked in as we concluded our conversation with Toto Care Box. Oh my goodness, they are filled with such positive energy, enthusiasm and life! This conversation was a long time coming.
When, how and why did Simply Do Good Kenya start?
SDG was started in July 2016 after the team at Tin Roof Foundation decided that they needed to create a way for people to give back to their communities in very simple and impactful ways.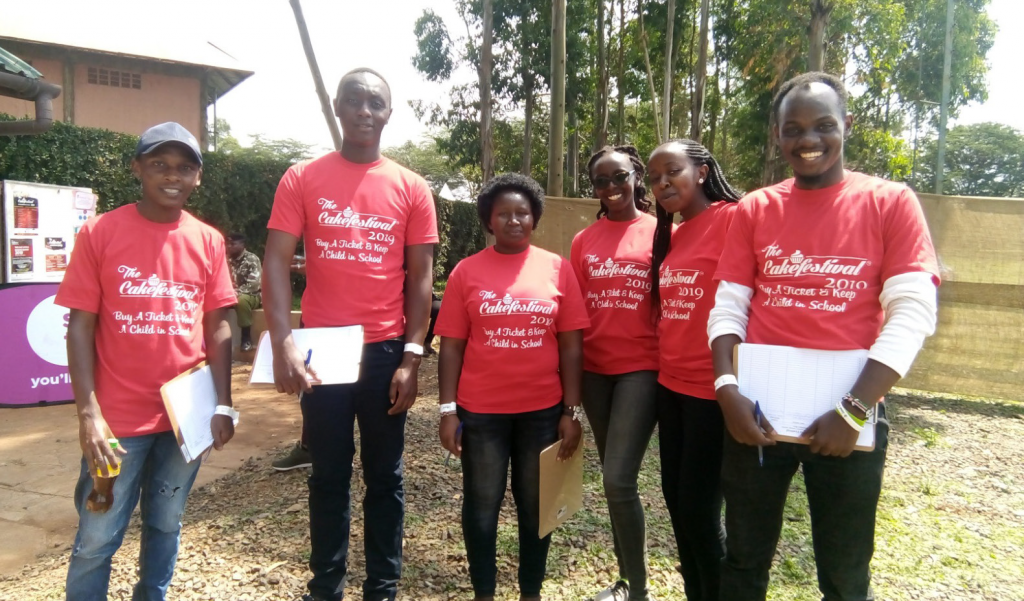 We had just come from wrapping up a campaign against Childhood Cancer and had seen so many different people want to get involved through volunteering their time, energy and skills. It became clear that people are often looking for a place they can give back to and so Simply Do Good was birthed. To give permission and demonstrate how simple it can be to intentionally do acts of kindness.
There are three of you on the team, please tell us a little about yourselves and what drives you to do this?
My name is Barbara; I have been part of SDG from its inception. I studied Forensic Science and did not ever see myself in the social impact side of life, but here we are. I do not regret it one bit, innately I have always loved LOVE. Not in the romantic sense but in the phileo sense. I have this deep belief that love can conquer all the hate and evil things in this world. SDG is a conduit for me and other people to spread this love in the most authentic and simple way.
I'm Kirsty and originally from Scotland, I've been in Kenya for almost 14 years. After working with a small NGO for ten years, I joined the SDG team, which felt like coming home. It was like being given permission to randomly help others and do small things that would brighten people's day. I have a young son and I want him to grow up knowing that people care for each other and look out for one another. I want him to be compassionate and look beyond himself. SDG's goal is to create a culture of selfless generosity. That's a world I want to be part of and I'm happy to be part of the team trying to make that happen.
My name is Beth Wanyoro and like Barbara, I never saw myself working in this line of work- I am a Political Science graduate. My mantra in life is to put a smile on someone's face at least each day and by the end of the year, I would have touched 365/366 lives. As much as I may not do that because we are all human, I looked for a platform that would help me do that- SDG provided that platform for me. I joined SDG on one deed that we did at the central park during my holidays in my 3rd year of university. We were giving random people notes of encouragement and I was sold out to what they were doing. I became a volunteer and would join in the deeds and later I joined the SDG team and we continue to spread love in the simplest ways and intentional acts of kindness.
What sorts of programs do you do?
Simply Do Good can be adapted for a variety of different groups. We currently partner with Africa Youth Leadership Forum as the action arm for their work in developing young leaders on university campuses. We also work with churches and corporates to find the heart of the people and ways they can simply do good, rather than all the giving being dictated from the leadership.
In order to inspire people to do good, we organize deeds that people can participate in and we partner with other organizations to provide volunteer opportunities. We believe that volunteering is a great way for young people to build their skills and enhance their CVs.
We have focus areas that guide us, namely:
● Public Officers i.e. police officers,
● Vulnerable people i.e. children with special needs, elderly people, people with disabilities
● Environment.
What has it been like running SDG in Kenya? Are people supportive or resistant and what sorts of challenges have you faced along the way?
As Kenyans, we seem to always be there for people in a crisis or when they need our help regarding harambees (fundraisers) for school fees, weddings, medical fees, funerals etc. We always give.
In the beginning, we thought that what we do would be an easy concept to be grasped since we already help. But over the years, Kenyans have become cynical and skeptical about fundraisers, because of the many stories of cons that have come up. We have had people wonder why we were carrying out these good deeds, without getting anything in return, because nothing is ever free. Others have gladly participated in giving back.
How do you deal with the challenges and discouragement that you face?
We have core values that guide us as we select what deeds to carry out. These core values are what keep us focused, even when we are discouraged because, at the end of the day, we are not doing this for recognition but for the Glory of God. Remembering why we are doing what we are doing helps a lot.
What do you think is the difference between doing good for the sake of love for humanity and doing good just to sell an organization?
Doing good for the sake of love for humanity is a long-term investment and goal while doing good just to sell an organization is based on so many variables and can change as fast as one changes their clothes, This means that the impact that will be made will not be long-lasting or positive, to say the least.
Doing good for the sake of humanity is a lifestyle, you live it every day no matter which organization you are in. It goes with you everywhere.
What has it been like mobilizing during Covid-19?
We haven't organized any formal deeds recently as we don't want to put our volunteers at risk. Our focus in this time has been to remind people to keep it simple and that there are small things they can do for the people on their doorstep. Our volunteers have risen to the occasion and have told us of some of the things they have done themselves:
– Helping to educate the children in their neighborhood about COVID19 and the need to wash their hands;
– Giving words of encouragement to customers in a shop;
– Calling friends to check they are okay;
– Babysitting for neighbors who need to go to work or are having a tough time
– Refilling hand washing stations near them;
– Sharing important information about COVID on their social media pages;
– Police deeds in Juja, Riruta and Karen, Embakasi and Pangani Police Stations;
– Making tea for the night guards at their apartments.
What do you think are the main hindrances to restoring and sustaining a culture of care in Kenya and Afrika?
The fact that there seems to be more bad or evil that is taking centre stage than good. This creates a lot of skepticism in people and this is usually harder to shift. As does corruption and the fact that bad deeds go unpunished, which leads to the feeling that doing good is like adding a drop to an ocean, that not much change will happen.
In case someone somewhere wants to join your team, is it possible and how should they go about it?
SDG is about doing simple and intentional acts of kindness; this means that it should be transferable to every household and corner of this country and world. So if someone wants to join the team, they can send us a message on our socials and ask to join the volunteer team and we will share resources and training for them to be able to replicate the deeds in their immediate community.
Any plans to go beyond Kenya's borders?
Definitely, as far and as wide as possible.
What message do you have for Afrika and the world concerning simply doing good?
It does not take a lot of resources or planning or energy to be a little bit kinder to your neighbor or people around you. It really is simple to do good!
Msingi Afrika Team
Passionate about getting God's message concerning Afrika and the end times to the world, in order to heal, restore and rebirth Afrika to her true purpose and destiny in God.