Nigerian Edikang-Ikong Soup

Edikang-Ikong Soup is the native soup of the Efik or Ibibio people of Cross River and Akwa Ibom state in Nigeria; a highly nutritious, delicious  vegetable soup natively prepared using 'ugwu' (the native name for pumpkin leaves in Nigeria) and spinach (locally called water leaf).
Like most soups from these coastal regions, this dish comes loaded with various seafood delicacies like periwinkles (being a regular staple) and some interesting "obstacles" (that's the Nigerian slang for assorted meat cuts). Interestingly, Edikang-Ikong soup kindles the same visual impression as Afang soup, this soup joins the list of Efik or Ibibio delicacies that have garnered cult status in Nigeria where the clout of top chefs and the best cooks are usually measured by their ability to reproduce this soup in its classic form.
Edikang-Ikong is almost exclusively eaten with a fufu or other form of 'swallow' (another local slang for any of the collection of local starch-based mounds eaten with one of these soups).
Ingredients
Water leaf
Pumpkin leaves (half the quantity of water leaves)
Goat meat (cut into large bite size pieces)
Smoked Shrimp
Palm oil
Onions (to your preference)
Ground Cameron pepper to taste
Scotch bonnet peppers (based on preference)
Stockfish (head preferably)
A generous amount of ground smoked dried shrimp aka Crayfish
Ponmo (smoked goat or cow skin)
Dried fish
Panla (deboned)
1cup  of Periwinkle
Beef stock
Choice cooked meats and fish (desired quantity and variety to preference)
Chicken bouillon as needed (once your stock is tasty, you'll need less salt)
Salt to taste
Cooking Instructions
Wash your beef, goat meat and stock fish carefully and transfer to a pot, season well with bouillon cubes, salt, curry, thyme and your onions. Leave to cook for 1hour (I use pressure pot for 30minutes because I love my meat very tender).
Dice another onion and the bonnet pepper, set aside.
Wash the smoked ponmo very well, dice and set aside.
Wash and debone the dry fish and panla, set aside.
Wash the periwinkle, set aside.
Wash the spinach and pumpkin leaves in cool water to get rid of sand and dirt. Pick off the tough stems, but save the tender stems. Chop and set aside.
Once the meat is tender and is done, add ponmo, ground crayfish, shrimps, pepper, palm oil, dried fish, panla, periwinkle, scotch bonnet peppers and every other side attraction you want added.
Let it boil well for another 15minutes.
Check for salt
Add the water leaf vegetable and pumpkin leaf.
Let it simmer for 2 minutes. The Edikang-Ikong is ready. 
Serve with swallow of your choice. Example: Fufu, Eba, Ugali, Pounded Yam etc.
*Note that I added my vegetables last. I did that because I do not like my vegetables overcooked so they do not lose their nutritional value.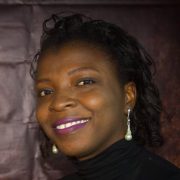 Ayoola Levites
Ayoola Levites is a Caterer, Food consultant, Recipe developer, and Addicted foodie based on Lagos, Nigeria. Betay's Kitchen is her teaching arena.