Get Ready! Afrika is Coming.

After an intriguing year in 2021, it is only but fair to be optimistic about this year 2022 and what opportunities it presents to the Afrikan people, amidst the constant challenges we face. Perhaps it may not be that fair, as per my assessments, but honestly it would be appropriate to say that there has been a gradual shift towards the liberation from mental slavery to the realization of the truth about our ancestry and the power we possess as a people. The majority of Afrikans globally are coming to terms with the lies that have always been handed down to them periodically, and are ready to openly defend the truth. Impressively, various traditional and cultural systems are adjusting back to their original and stylish Afrikan compositions. The truths restored here are: Afrika is rich not poor, Afrika has a strong and healthy population and not sickly people, and that Afrika will be the biggest economy in a couple of years to come. Those are facts and many more.
Are we there yet? No not at all. There is a lot of room for improvement as far as educational and technological matters are concerned. In order for Afrika to front a formidable and fortified challenge to the world, there is still a long way to go. The good news is that we are on course. It may not feel like it for many of us in this continent, however, I remain persuaded that it is happening. The million dollar question that should be lingering over your head: Are you ready? Are we ready to accept the new dawn of reality and take up the responsibilities that it brings? The key responsibilities evolve around the leadership principle. Are our youth ready to take charge of people who are hungry for change and disturbed with revolutionary knowledge that would reverberate throughout subsequent generations in Afrika? Whether the answers to these questions would be addressed or not, that solely depends on you and me. I too, for a long time, had fallen victim to the traps and lies of the westerners. I am helplessly still a victim in some ways to date, because of poor choices of leaders. It does not have to be like this anymore for if I team up with you and another, we can commence charting a new course that would never leave bitter tastes in our mouths during our old age where we shall be held accountable by our children and grandchildren as to what we ever did to help make Afrika great again.
I feel extremely encouraged by how the young people in our society are pushing to learn the truth by breaking norms. There is a great awakening happening in learning institutions, health institutions, work places, business environments and political landscapes. The aura of change is disseminating the Afrikan continent. Parents, teachers, religious leaders and employers, brace yourselves, for you may be handling one of the key Afrikan liberators who will play crucial roles towards the restoration of Afrika. We do not have any other better home that we know aside from our beloved continent of Afrika.
The present subjugation and defeatist strategies exuded by the colonialists is just but that. In clearer terms they are constantly scheming new ways to subject us to a conquered and surrendered mentality for them to continue reaping all the benefits of our continent for free. Paramahansa Yoganada says 'He who conquers the mind, conquers the world.' Therefore, you should not expect any less from them, perhaps they may even attempt to burn down the world with other supremacists just so they could maintain the status quo. What a shame!
So I call upon my brothers and sisters from within and without Africa, to not settle for less. Do not get comfortable being hosted in foreign countries outside Africa while they siphon all the knowledge and workmanship you possess. Do not be impressed by their infrastructure and sky scrapers. Your ancestors contributed in building that for them. Do not be disappointed that you missed out on their scholarship selections to their top universities. Africa is quickly coming up with modern universities that offer far better services for a growing continental economy. Do not seek to emulate everything they present you with on social media and television, for majority of that stuff is lies.
As you start out this new year, be curious. Learn to question everything presented to you. Do a little research about topical or thematic issues that frequent your screens and social media. There is always a catch to everything. When you discover something new and interesting, then you have a role in educating people at home and other social spaces. It may sound little and insignificant, but remember when one member of a family wakes up, the entire community will soon be on course.
See Also
A journey of thousand miles always begins with one step. I still believe that one day in the near future people across the Afrikan continent shall regroup, and remind themselves of how they wrestled with crippling corruption, toxic leadership, and controlling forces from the colonial and other foreign countries, with a goal of rebuilding a gigantic Afrika. Probably, we may not be around to witness such, but we can start to contribute to those discussions by whatever decisions and actions we undertake now and today.
I wish you a blissful new year 2022.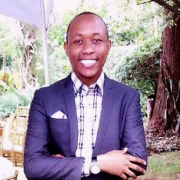 Robert Macharia
Robert Macharia is a mentor, trainer and writer bearing adequate experiences in business development and brand management success.