DAVID AND SHARON JONES: A LIFE OF SURRENDERING ALL TO GOD.
David and Sharon Jones' walk has been a walk of faith that carries with it so much refreshing and encouragement. David is a counseling psychologist and lecturer with a local university and Sharon, a PhD in Zoology, teaching ecology, environment and technical writing at the same university as David.
"Being surrendered," is how Dave begins, describing their journey with God,"being surrendered takes out all the anxiety. We just have this daily joy of knowing that no matter what we're going through, God is with us. Even if it is the fire, even if it is the valley, it's going to be okay. We'll have victory in whatever presents itself."
Almost two years ago, American David Jones took a leap of faith, choosing to follow a nudging in his heart to come to Kenya to help a Kenyan sister out with a project in Mombasa. That decision was to be the key that would unlock both his and Sharon's destinies in ways more profound than either of them could have known.
Through the most divine of ways, God caused David to completely surrender himself and his will entirely to God one night while he was staying in Mtwapa. He was watching a video of DrTumi singing "All of me". In a moment of complete brokenness and vulnerability before God, Dave found himself letting go of everything God wanted him to, and agreeing to totally embrace God's will and plan for his life. And just two weeks later, God arranged for him and Sharon to meet. David needed to move out of the cottage he was staying in and had gone to view a house, which Sharon just happened to be vacating. A brief chat helped him find out a little bit about her work and he wanted to interview her about it.
Three days later, David heard God instruct him to go back to her house, in the hot midday coastal sun, with not even twenty Shillings to use to take a pikipiki (motorbike) or a tuktuk (motorized tricycle). When he arrived, she wasn't there, but her landlady, a vessel used by God, tracked her down and he went to join her at the restaurant where she was, just around the corner from her house. A two-hour interview turned into a personal conversation and six hours of beautiful fellowship, David heard the Lord say in his heart, "She's the one", after which he walked her home  God also confirmed this to Sharon in her own special, beautiful way. And they both submitted to God's plan for their lives.
For a little while, it seemed as though this budding relationship and the word which God had spoken was in jeopardy, because David's time in Kenya was cut short abruptly and he was going to have to go back to the US, whereas Sharon was moving to Nairobi, he says, "but by that time Sharon and I knew something was up." To Sharon, "Right? Something special was taking place."  (Sharon nods, saying ""Mmhmm") But if we weren't being surrendered we would have been in a state of angst and questioning and like 'no this can't be right, you're going back to California she's going to Nairobi how could she be the one? But before we left we just gave it all to God again. And then within two weeks of being home, I got invited back to Kenya as a guest lecturer. What? I'm going to Nairobi?And that's where Sharon is? It's like I was just being picked up (grabs his head with his hand) and placed right back here."
And so, within 3 months of their first meeting, David and Sharon were married in a beautiful ceremony on a sandbar in the Indian Ocean along Kenya's beautiful coastline, and their marriage has become a beacon in many different ways. It took faith, courage and sacrifices for them to both leave what they knew and come together for God's purposes alone.
"being surrendered takes out all the anxiety. We just have this daily joy of knowing that no matter what we're going through, God is with us. Even if it is the fire, even if it is the valley, it's going to be okay. We'll have victory in whatever presents itself." David Jones
Asked about cultural challenges and differences, David and Sharon share some of the challenges they have faced in an intercultural marriage, often coming up against blatant discrimination and even outright hostility both from Africans and Americans alike. Although there was the one Kenyan guy who congratulated her on getting a Mzungu (Caucasian), saying that she had done well for herself.
God really does have a sense of humor, ensuring they met in Mtwapa, which is a locale well known for 'slay queens' and prostitution, but when God is determined to make your life speak, He will do it in grand style.
"I definitely get a lot more attention now just by the fact that my husband is white," says Sharon. "I'll get stared at. In shagz (the village) it was just insane. That was the breaking ground for me to just stop caring because I knew we would be like a beacon wherever we go."
But these challenges haven't fazed them; instead, they have bolstered their determination to stick to what God has shown them of each other and face the journey ahead trusting in the One Who brought them together.
Sharon goes on to add, "… I guess we're there to shock and disturb at the same time but it's really interesting and it shows the heart. It really shows, you see the hearts of people by the time they're putting the mask back on and trying to cover it, you've already seen the whole show. You've seen it. So, it's like God showing, God exposing people to themselves."
Dave chips in concerning some of the challenges he's faced at work, "Sharon reminds me that I'm not there for them. And they're not the ones that placed me there. God has placed me there. So I walk in with a smile and I say you know good morning and go about my business and they can do what they want. They can talk about me or be unfriendly or not talk to me. Several people don't talk to me, they just don't and I'm not worried about it."
We asked Dave to share a very intimate part of his story, his own personal battle with depression. He had this to say, "Sharon has just been such a key instrument in my restoration. …when I had met you guys in 2017 (referring to my husband Samuel and I) I was in such a deep dark place of depression and oppression and pain, a lot of pain from my previous marriage and still living in that pain and I was on three medications, two specifically for depression."
He goes on to share with us that one afternoon, the same sister that he had come to Mombasa to support with the project came to see him along with two other sisters and they asked him about three or four times how he was. Eventually he said, "I'm not well."He adds, "So they prayed over me and we had a time of fellowship and it took some time but they declared over me that my mind was healed and that healing had started taking place that day and that was just that kind of that brew that God had going, that He was preparing me for Sharon and preparing us for our lives together." One of the sisters asked him specifically, "Do you know what David means? Do you know your name?" She said, "You are Beloved!" Fulfilling a word given to him by a pastor a few weeks prior, who had said to him "Within two or three weeks you're going to understand what it (David) means."
"So I have that plaque up there from that wood carver down in Mtwapa that says Daudi, Fearfully and Wonderfully Made.So the Fearfully and Wonderfully Made theme was the healing part of my brain and my depression and so on. But Sharon has been so instrumental in my recovery… her encouragement was what helped me follow through with the titration of that medication, coming all the way off of it. I came off it but suffered some pretty heavy physical side effects."
David and Sharon shared that as he was coming off the medication, he had experienced something called brain zaps, which are a feeling like an electrical shock. David says, "Oh it was horrible. It was really really uncomfortable and disconcerting coz we're like what was going on? And Sharon's influence and her listening to God and saying …you're no longer taking this medication, you don't need it. You don't need it so stop taking it."
Sharon says, "Medication isn't supposed to do that to you."
Having taken note of the growing cases of depression globally and their impact on young and old, rich and poor alike, we asked David what he thought the cause and cure are.
"It's trauma, in most people's cases, it's trauma. I think today, more than ever, a significant catalyst or significant seed in depression is people's expectations for themselves and the way they compare themselves to others and it's social media that fuels that fire of 'I must be this person I must look this way I must have my selfie with the Eiffel tower behind me.'
But it's this thing it's almost like the souls… well they're lost. And we're holistic beings, what we do in the physical manifests in the spiritual and the same thing ..it goes both ways. So if we're not grounded in the spiritual then our minds our bodies our brains are susceptible to disease… Dis – ease. And the brain chemistry responds to that and starts forming a depressive metabolic reaction. The synapses that are sending out the dopamine and soon, they're not received because the brain chemistry has been altered. And so yeah there IS such a thing as clinical depression but it's been caused by I believe, outside forces.
As somebody who treats people with depression, and having experienced it, I believe that our brains can be rewired back to the way they were intended to be. We're broken anyway but we don't have to be that broken. We don't have to be that ill where some are ready to take their own lives, they're so depressed. They just don't feel fulfilled they don't see any hope for the future, there's too much pain in their lives they feel unloved, disconnected.
People look for their identity outwardly in these projected images of themselves. So what I try to do is bring the person back to who they are, find their positive affirmations because they have them and then get them to believe in themselves and not care so much about what everybody else thinks or comparing themselves to everybody else, reminding them that they are God's children that they are fearfully and wonderfully made. So it's almost like in the counselor's chair I'll start preaching in a way about how Christ loved us so much and forgives us and gave the ultimate price that He's forgiven us, so why would we not forgive ourselves. We have to forgive ourselves. That forgiveness of others yes you have to do that and we forgive others not necessarily for their benefit but for ours.I teach them about forgiving others but also about forgiving themselves and when you are able to forgive yourself it opens up that conduit that God wants us to have with Him, that relationship of God in and through us and illuminating to others.If we don't have the forgiveness then it's blocked or the light that we do have in Christ it's got shade over it, it's not quite complete.  We must love ourselves because God loves us and has proven it and proven it over and over and over so if He forgives us then we are required really to internalize that and to love ourselves so that we can truly love others. We can't really truly love another person in a full and complete way unless we love ourselves as God loves us and give ourselves grace.That's another thing, there's a whole book on that really that could be written. But if we can connect with God through that, I believe that's a cure for depression. It really is. And it was very key in my restoration was the forgiveness factor and then coming down to the list of everybody that wronged me that I had to forgive, then it was like this 'ding!' you gotta forgive yourself. So we live in that continuous flow of grace and forgiveness that God gives us that must exude out of us as well. I think it's key for restoration from depression."
Sharon thinks back to when David arrived in Nairobi and she was helping him unpack and found a drawer full of medication when she had panicked for a moment but then "I held on to that reminder of God being the One Who put us together so it means He knows I can handle it. This is for me, so." She is now able to celebrate a whole new outcome that God brought out in the present, "He doesn't take any medication. He's absolutely medication free. Even when we went for that medical check-up the doctor declared him the healthiest man of his age he's seen. He's strong and healthy. If I had opened that drawer and decided that 'I can't' at that moment, you know."
Samuel says, "you'd have lost the entire story." To which Sharon responds quietly, "yeah."
I think that a lot of times people don't dare make certain decisions that will make them stand out or be a beacon because they're afraid of what people will think or say or do. Would you say that boldness has been one of the keys?
Sharon answers, "Yeah. His boldness and obedience kick-started this whole thing. Him being the man of God that he is and running after God's heart even when he didn't feel like it, even when he was depressed. So it's a beautiful ministry, I suppose, or example for those who are afraid to make that decision for those who are holding back."
David says, "Fear of culture, fear of what people would think, fear of racism, fear of persecution. Yeah, I think the Lord gave me that theme even before I met Sharon,to walk in boldness and not care or be afraid of what people think or what they might do, because I don't have control of that. But if I'm truly going to be a son of God, God in and through me, then why would I fear? Deep down what do I have to lose and what do I have to fear? So, it's in the spiritual realm but it's in the physical realm too."
See Also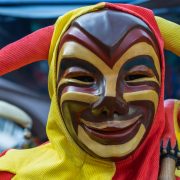 So in other words you'd say that you both has been a productive journey of faith?
Sharon responds,"It's been instructive in allowing God to use you for His purposes which means you push yourself out of the way but once you do that when God comes through for you it's above and beyond anything you could have done for yourself. That is something I'm learning and it's just easier for me to submit and surrender because I know God has it."
So what would be your advice or counsel to people that are already married and those about to get married?
Sharon answers, "Put culture and tradition last and put God first and do not allow yourself to be swayed by the voices and the opinions of others … cultures and traditions are man made things that have a strength they don't deserve. I would advise people to put those aside and break off that fear of 'oh what would my dad say? What would my relatives do?' And you just flow with what God is saying. So when it's a God thing, God will speak through it and God will flow and…"
David continues,"… that's faith… boldness is not possible without faith.  Yeah if we were listening to people we might not have even got married, it would have been a mess. I think the faith aspect was really huge because none of us would have planned it the way God did it. It was not our way. The timing of it was not our way.
Every good and perfect gift comes from above. That's right so faith is key. If we believe that then it's easier to have faith. That He wants His kids to have to be happy healthy and wealthy in whatever capacity that is um and so it's a scary leap at first, faith and surrender, but once you are living in it and have experienced what we have experienced in this short amount of time I couldn't live another way, I really couldn't go back. I couldn't go back to anxiety and wondering what people think and what I should do, no, just uh no thank you (laughs)."
Any other thing you want to share?
"We're excited for the future. Um for me I get antsy. I like change I like changes of scenery, I like new adventures and even just being here I'm a little bit antsy, I'm like, what's next? And so I'm having to I can't wait for our Landcruiser to come so we can start doing safaris you know. But you know God is having us live in this abundance so I'm learning to just chill and settle and you know what I mean, He has us here for a reason it won't be forever just relaaaaax." Laughs David.
And Sharon can show you everything you need to know about flora and fauna…
"Yes. I can't wait!" Sharon exclaims.
David joins in, "yes, it's going to be fun. So if the future is anything like just this very recent past, we're excited and blessed. I am blessed with restoration and faith has brought me to this woman and to this relationship and yeah I don't know if there's any other thing I can say besides that.
Thank you David and Sharon for lunch and for granting us your beautiful story.
David/Sharon…you guys are most welcome.
Chioma Phillips
Chioma Phillips is the Editor of Msingi Afrika Magazine and the host of Msingi Afrika Television. Her hope is to see the Truth shared, with all who will listen, for the transformation of the people and the continent of Afrika - and the world. She believes passionately in the critical role that Afrika and Afrikans have to play on earth right now and hopes to ignite the spark that will cause them to see and believe who they are, so that they can live out their Truest lives for the remainder of their days.